Egypt Currency Reform Seen Driving Up Costs for Imported Fuel
By
Costlier oil products may spur subsidy cuts: Farren-Price

Egypt seeking new suppliers after Saudis halt crude shipments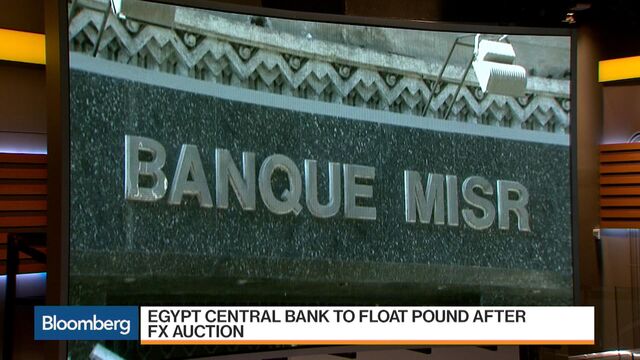 Egypt, which relies on imports to meets its energy needs, faces higher costs for gasoline and other oil products unless it cuts fuel subsidies after the government decided to float its currency, according to analysts at Petroleum Policy Intelligence and KBC Energy Economics.
The Arab world's most populous country took the unprecedented step on Thursday of allowing the pound to trade freely as a step toward stabilizing an economy weakened by a dollar shortage. Egypt spends as much as 10 percent of its annual gross domestic product on subsidies, with fuel subsidies accounting for two-thirds of that amount, according to Mark Bohlund, a Bloomberg Intelligence economist. 
The country was already scrambling to meet its energy needs after Saudi Arabia's state oil company halted shipments of refined oil products for October. Egypt signed a memorandum of understanding to import crude oil from Azerbaijan's state oil company Socar to supply its refineries, the oil ministry said Thursday. The deal came after Egypt reached an agreement with Iraq on Oct. 31 to form joint ventures to produce oil and natural gas.
"The government will have to move quickly to cut energy subsidies, otherwise they will be facing a very high bill for energy and other imported goods, as well as a large deficit,'' Bill Farren-Price, chief executive officer at Winchester, U.K.-based consultant Petroleum Policy Intelligence, said in a phone interview.
Black Market
Egypt has struggled to revive its economy since the 2011 uprising that ended Hosni Mubarak's three-decade rule and the ouster of his Islamist successor two years later. Foreign-currency reserves have stabilized this year, though they remain more than 40 percent below their Mubarak-era levels. The shortage led to the emergence of a black market for the dollar and contributed to a crisis that has curbed imports, causing shortages in commodities such as sugar. 
Egypt has imported $8.6 billion of fuel under the 2015-2016 annual budget. That's the equivalent of 76 billion Egyptian pounds at the old, official exchange rate, or roughly 120 billion Egyptian pounds after Thursday's decision to let the currency float.
"The floating complicates the situation for Egypt which is already having problems securing its needs after Saudi Arabia's suspension of fuel supplies,'' said London-based Ehsan Ul-Haq, senior oil-market analyst at KBC Energy Economics. 
Saudi Arabian Oil Co., known as Saudi Aramco, informed the Egyptian General Petroleum Corp. in early October that it would halt supplies of refined oil products, forcing Egypt to resort to tenders to meet domestic demand. Saudi Aramco had agreed earlier this year to provide Egypt with 700,000 tons of refined oil products per month for five years in an arrangement valued at about $20 billion.
Gasoline Prices
"It will be very difficult for the government to digest the whole thing itself," Ul-Haq said of the expected increase in costs for imported fuel. "It has to pass on some of the impact of devaluation to consumers, which means higher diesel and gasoline prices.''
Egypt raised gasoline prices as much as 78 percent in 2014, but pressure mounted for the government to take further steps to stabilize its finances. The decision to float the currency came after months of negotiations with the International Monetary Fund over a $12 billion loan seen as important to stabilize an ailing economy.
"It could negatively affect the fuel imports bill in the short term, but if that is coupled with a subsidy restructuring, this can help offset the impact," said Reham El-Desoki, a senior economist at Dubai-based investment bank Arqaam Capital Ltd. "It's a positive step in the longer term."
Before it's here, it's on the Bloomberg Terminal.
LEARN MORE