Credit Suisse Drops as Thiam Wealth-Management Push Stumbles
By and
Net margin at Asia-Pacific unit dropped in third quarter

CEO Thiam says outlook to remain challenging for Swiss bank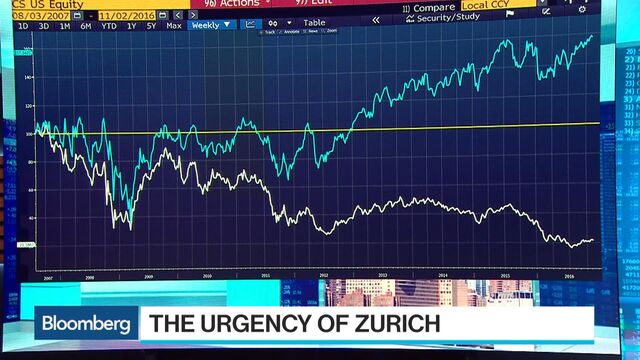 Credit Suisse Group AG dropped the most in three months after the lender reported a third-quarter profit sparked by one-time gains, while Chief Executive Officer Tidjane Thiam signaled that the outlook will remain challenging.
While the Zurich-based lender posted a surprise profit of 41 million Swiss francs ($42 million), it was driven by a gain on a property sale. Revenue from equities trading slumped 38 percent and margins at the Asia-Pacific's private-banking business dropped, hurt by loan provisions.
Since taking over last year, Thiam has eliminated thousands of jobs, slashed risk-weighted assets, cut back the securities business and pledged to focus on wealth management to boost profitability. The CEO, 54, said on Thursday that Switzerland's second-biggest bank still has a "long way to go" and is set to weather "challenging market conditions."
"Margins are tanking across the private-banking business, which is supposed to be the core franchise," said Chirantan Barua, an analyst with Sanford C. Bernstein Ltd. in London, who has an underperform rating on the shares. "The second thing is risk. Between equities in Europe and share-loan losses in Hong Kong, people are questioning Credit Suisse's risk controls."
Credit Suisse dropped as much as 5.7 percent, the biggest intraday decline since Aug. 2, and traded at 12.66 francs at 12:15 p.m. in Zurich, down 4.5 percent. The lender has lost about 42 percent of its market value this year.

Europe's largest lenders are under pressure to deepen cost cuts, hurt by record-low interest rates, mounting legal charges, volatile markets and tougher regulatory scrutiny. UBS Group AG, Switzerland's largest bank, on Friday reported a 11 percent gain in pretax profit to 877 million francs, beating analyst estimates, with CEO Sergio Ermotti pledging to lower expenses further.
Thiam accelerated the pace of his overhaul in March, announcing plans to eliminate some 6,000 jobs across the bank this year, after the lender was forced to write off about $1 billion on risky securities over six months. The company still has to eliminate 600 positions this year, as part of efforts to push costs below a target of 19.8 billion francs in 2016.
For analyst views on Credit Suisse, click here.
The lender had restructuring costs of 145 million francs in the third quarter. Chief Financial Officer David Mathers said on a call on Thursday that charges probably won't be "that much different" in the current quarter, forecasting about 650 million francs for 2016.
Thiam is seeking to boost profit through a wealth push, mirroring a strategy change unveiled by UBS under Ermotti in 2012.
'Under Pressure'
The Asia-Pacific unit, led by Helman Sitohang, posted a pretax profit of 152 million francs, down from 162 million francs a year earlier, with net new assets of 4.6 billion francs The private banking net margin dropped from a year ago, hurt by net provisions for credit losses of 38 million francs because of a "small number of share-based loans" in Hong Kong.
The international wealth management business, led by Iqbal Khan, posted a profit of 245 million francs, up from 197 million francs, with net new assets of 4.4 billion francs, down from 5.4 billion francs in the second quarter.
"Wealth-management margins continue to be under pressure," Deutsche Bank AG analysts including Kinner Lakhani wrote in a note. "We remain cautious on the wealth-management outlook driven by concerns over costs and fee pressures as well as continued global regularization."
The global markets division, led by Brian Chin, posted a pretax profit of 87 million francs, down from 263 million francs. Credit Suisse benefited less from a rebound in bond trading than some of its peers, with revenue from credit trading up 3 percent to 719 million francs. Revenue from equities slumped to 324 million francs, with the CFO calling it a "disappointing" performance.
Barclays, UBS
The five largest U.S. investment banks saw their combined equity trading revenues drop 4.8 percent in the quarter, while revenue from trading in fixed income securities jumped 49 percent. Deutsche Bank AG, Barclays Plc and UBS all reported gains in fixed-income revenue.
"The equities business showed weakness and, along with the weaker private-banking margins, those are the things people dislike," said Javier Lodeiro, a Zurich-based analyst at Zuercher Kantonalbank who rates the stock neutral. "They may be trying to improve but they are totally dependent on external factors they can't influence."
The unit housing advisory services led by Jim Amine posted a profit of 39 million francs, down from 65 million francs a year ago.
"The macro outlook is challenging -- it's dominated by political uncertainty," Thiam said in an interview with Bloomberg Television on Thursday. "It's going to be a time when political events will have an impact on the behavior of investors so we're in a very cautious stance."
Swiss IPO
At the Swiss universal bank unit, which is earmarked for a partial initial public offering in the second half of 2017, pretax profit almost doubled to 758 million francs, fueled by a 346 million-franc gain tied to a property sale. The CEO said while the lender is "working hard" toward an IPO, it will depend on market conditions.
The unit in charge of winding down unwanted assets -- or bad bank -- reported a pretax profit of 852 million francs, up from 775 million francs. The company will present new targets for the division at an investor day next month.
Credit Suisse had a common equity Tier 1 ratio, a measure of financial strength, of 12 percent, up from 11.8 percent, while the CET1 leverage ratio was at 3.4 percent. The bank has "substantially completed the bulk" of 1 billion francs in asset disposals, the CFO said.
"There's clearly still some skepticism about the revenue outlook," said Arjun Bowry, an analyst at Bloomberg Intelligence. "They had a disappointing equities quarter and also wealth-management margins continue to decline, raising questions about whether we're seeing enough return on the heavy investments made, especially in Asia."
— With assistance by Catherine Bosley, Cindy Roberts, Chris Malpass, Mara Bernath, Hellmuth Tromm, Zoe Schneeweiss, and Francine Lacqua
Before it's here, it's on the Bloomberg Terminal.
LEARN MORE