Colonial Restart Delay Prompts Gulf Refiners to Cut Rates
By and
Federal, state agencies waive gasoline rules, ensuring supply

Company pushes back expected restart to Sunday from Saturday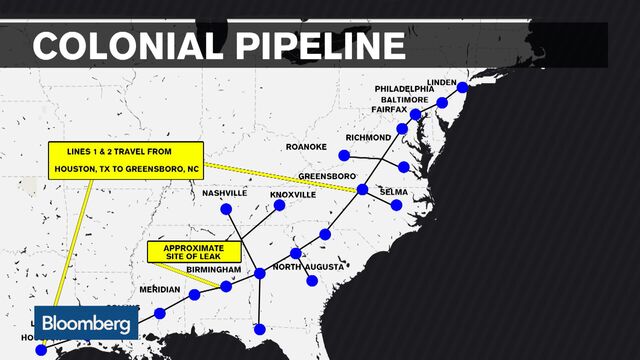 Two major oil companies that operate Gulf Coast refineries are cutting fuel production as a major conduit to gasoline markets in the eastern U.S. remains offline.
Refineries operated by Exxon Mobil Corp. in Baytown, Texas, and Total SA in Port Arthur, Texas, were said to reduce output in their facilities in response to the pipeline shutdown, according to people familiar with refinery operations who spoke on the condition of anonymity. Colonial Pipeline Co. has delayed until Sunday the expected restart of the largest U.S. fuel pipeline, which was shut this week by an explosion and fire in Alabama.
Colonial aims to restore service on the main 1.3 million-barrel-a-day gasoline pipeline one day later than originally expected, it said in an online statement. In six days at capacity, the line would typically move more than 300 million gallons of fuel.

Federal and state agencies have taken action to ensure that gasoline is delivered to consumers potentially affected by Colonial's outage. Governors in Alabama, North Carolina and Georgia temporarily lifted restrictions that limit how much time truckers can spend hauling fuel to market.
The Environmental Protection Agency waived certain Clean Air Act regulations, meaning that densely populated cities don't have to use reformulated gasoline to control emissions through Nov. 23. The CME Group, owner of the New York Mercantile Exchange, said that EPA's waiver will not be applied to deliveries made against the RBOB futures contract in an online notice.
"The EPA waivers are not going to affect the New York Harbor market so much as the sharp selloff in crude and expectations of motor gasoline imports," Patricia Hemsworth, senior vice president at Paragon Global Markets in New York, said by instant message from New York. "Any disappointments in the startup date past Sunday might bring the market back, but for now the entire complex is under pressure."
Front-month gasoline futures touched a daily low of $1.3676 a gallon Friday after Colonial advised shippers that conventional and reformulated gasoline could be mixed in its pipeline because of EPA's waiver. They settled at $1.3786. Prices have pared gains since jumping the most in almost eight years after trading reopened following the blast.
Repair Progress
Colonial said work crews extinguished a small fire at the site Thursday night and began operations to remove product. After all fuel is removed, the damaged section will be replaced with a 36-inch-diameter pipe as a permanent repair.
"We now project a Sunday afternoon restart of Line 1," the company said on its website at 3 p.m. New York time Friday.
The blast took out service on one line of a system that brings gasoline, jet fuel and diesel from refineries in Houston to storage facilities near New York City. Colonial Pipeline, which is owned by a group that includes subsidiaries of Koch Industries Inc. and Royal Dutch Shell Plc, supplies about half of the refined products used on the East Coast. This week's events followed a spill in September that left the line out of service for 12 days.
The second mainline, which delivers diesel and sometimes crosses with Line 1, was closed for several hours this week. Colonial's inspection of Line 2 showed no effect from the blast.
So far retail gasoline increases have been significant only in Georgia, where pump prices rose 6 cents since last Friday, according to Tamara Johnson, a spokeswoman for AAA, a motorist advocacy group. Nationwide retail prices averaged $2.224 a gallon Thursday, reflecting a 1.4-cent increase since Monday's accident, AAA data show.
Shares of PBF Energy, the refiner with the largest East Coast capacity, rose to $22.52 at 4:02 p.m. Friday from $21.80 on Monday.