Ex-Christie Allies Seek Mistrial as They Wait for Verdict
By and
Jury ends fourth day of deliberations without decision

Kelly, Baroni accused of illegally creating traffic chaos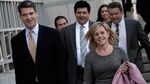 Two former allies of New Jersey Governor Chris Christie, accused of creating traffic havoc near the George Washington Bridge, asked for a mistrial following a dispute over the judge's instructions to the jury.
It's unclear precisely why the defense is seeking a mistrial. Lawyers for Bridget Anne Kelly and Bill Baroni filed the request Thursday in federal court in Newark, where jurors ended a fourth day of deliberations without a verdict. The lawyers filed a four-page letter that was blacked out, except for a single sentence in which the request for a mistrial was made.
Jurors are weighing whether Kelly and Baroni closed access lanes near the bridge in September 2013 to punish Fort Lee Mayor Mark Sokolich for refusing to endorse Christie's re-election. 
The jurors left early on Wednesday after a series of closed-door meetings in the courtroom involving the judge, prosecutors and defense attorneys. Prosecutors also submitted a letter on Thursday and asked the judge to seal it, saying "its disclosure may complicate the court's efforts to ensure a fair trial."
Several media organizations, including Bloomberg LP, asked the judge to unseal the court documents and any transcripts related to the matter, saying U.S. District Judge Susan Wigenton should articulate a "compelling need" for excluding the public.
Jury Questions
Earlier this week, defense lawyers asked Wigenton to reconsider her response to the jury's question about the law. On Tuesday, the jurors asked whether they must conclude that Kelly and Baroni intended to punish Sokolich in order to find them guilty of conspiring to misuse resources of the Port Authority of New York & New Jersey, which runs the bridge.
Wigenton said no -- they don't need to consider motive. Kelly's lawyer, Michael Critchley, told the judge that her answer was "directing a verdict of guilty."
On Wednesday, defense lawyers renewed their argument and asked the judge to give new guidance to the panel.
Wigenton on Thursday denied the request, saying the lawyers failed to provide new evidence that she might have overlooked.
Kelly and Baroni, who both testified in their defense, are also charged with wire fraud and civil rights violations. After a six-week trial, jurors deliberated for an hour on Monday before spending the entire day on Tuesday weighing the evidence.
The case is U.S. v. Baroni, 15-cr-00193, U.S. District Court, District of New Jersey (Newark).
Before it's here, it's on the Bloomberg Terminal.
LEARN MORE