Carney Dials Guidance Way Down as BOE Sees Future Wide Open
By and
BOE says Brexit uncertainty will weigh on U.K. economy

Bank shifts policy stance as pound drop fuels inflation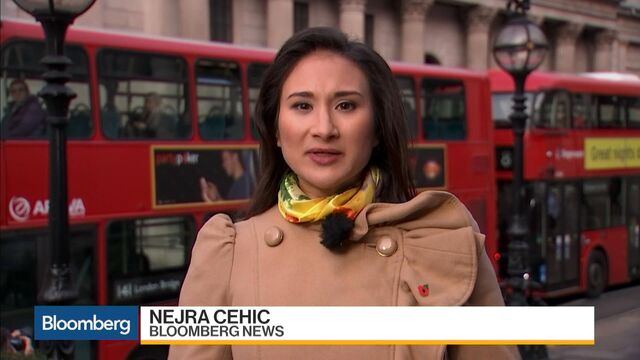 Mark Carney says he's staying at the Bank of England. He's just not saying what he's going to do.
With his forecasting record proving patchy, the governor's latest message is that the next move could be to tighten or loosen policy. A few months ago, policy makers foresaw a second interest-rate cut after the Brexit vote, while last year he was trying to indicate when rates would start to rise from a record low. The only thing Carney appears sure of now is his own tenure, which he extended this week to steward the economy through its divorce from the European Union.
"They've turned all the dials back to zero," said Kallum Pickering, an economist at Berenberg in London. He's giving "a plain vanilla piece of guidance that monetary policy can respond to either rises or dips in inflation around 2 percent."
The change of tack comes as the pound's plunge fans inflation and the economy performs better than anticipated, with the BOE on Thursday raising forecasts for both consumer-price gains and growth. It said its previous guidance on the likelihood of another rate cut this year -- which would have taken the benchmark close to zero -- had "expired" and emphasized its shift from a dovish stance with a warning that its tolerance for faster inflation is limited.

The BOE lefts its key rate at 0.25 percent, having cut it in August for the first time in more than seven years. It also restarted quantitative easing that month, and plans to keep that current program going.
Forward guidance, Carney's signature policy when he arrived at the BOE in 2013, was aimed at preparing investors and consumers for higher interest rates after they dipped to record lows in the wake of the financial crisis and then stayed there for years. 
Mixed Messages
He abandoned the initial pledge in early 2014 as unemployment fell faster than forecast, switching to a new language of "limited and gradual" rate increases, before later being labeled an "unreliable boyfriend" for mixed messages on the policy outlook.
While some of Carney's predictions have been sound, such as the decline in the pound, he's now trying harder to avoid specific thresholds. He said Thursday that there are limits to the bank's tolerance for above-target inflation, but declined to say what rate might be too high. He also said the Monetary Policy Committee is watching the pound, which has fallen 16 percent since the June referendum, but declined to comment on how low it would need to go for officials to consider intervening.
"Forecasts for how Brexit is likely to affect growth in the long term are even more speculative and uncertain," said Ian Stewart, chief economist at Deloitte. "The big upgrades to the bank's growth forecasts for this year, and next, underscore the difficulty of gauging the impact of Brexit, even in the short term."
Uncertain Times
In its latest Inflation Report, the BOE raised its forecasts for 2016 and 2017 economic expansion to 2.2 percent and 1.4 percent, but lowed its 2018 projection to 1.5 percent from 1.8 percent. The word "uncertainty" featured heavily in Carney's press conference, with the governor saying it was already affecting business investment and would continue to filter through the economy as the U.K.'s exit negotiations progress.
"Forecasting, looking ahead, are uncertain things, even at the best of times, and things are more than usually uncertain," BOE Deputy Governor Ben Broadbent said on BBC Radio on Friday. "We have to accept that it is an uncertain environment, and asset prices including the exchange rate will be volatile and there will be events that move them around."
While once considered at the vanguard of central banking for giving clear signals of his thinking, Carney is now alone among major central bankers in giving so little indication of where policy is heading. 
The Federal Reserve this week set up a possible rate hike in December, saying the argument for tightening has strengthened. The European Central Bank -- which already provides a form of guidance on its outlook for interest rates -- published a paper saying the policy is so effective that governments as well as central banks should employ it.
Carney told lawmakers late last month that guidance can be "useful in certain circumstances." The bank's pledge that any future rate increases will be gradual and limited is still in effect, he said at a hearing on Oct. 25.
The outlook for monetary policy isn't the only thing Carney has changed his mind about when it comes to the BOE. He took the job having said previously said he wasn't interested, and then agreed to serve for five years of the statutory eight-year term, citing personal reasons.
That five-year stint has since been extended after months of speculation that he might stay longer in the wake of the EU referendum, or even cut his time short because of long-running criticism from pro-Brexit lawmakers. On Monday, he pledged to stay on an additional year to mid-2019.
But a U.K. court ruled on Thursday that Parliament must vote on Brexit, possibly delaying the process. Asked at the press conference if that might affect his term and prompt another extension, Carney wouldn't be drawn.
"We've all had enough of that saga," he said. He later said in an interview that there would be no extension.
Before it's here, it's on the Bloomberg Terminal.
LEARN MORE