Brexit Court Ruling Will Lead to Uncertainty, Dijsselbloem Says
by and
Pound soars after U.K. government loses Brexit lawsuit

U.K. government to appeal decision to the supreme court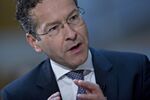 Dutch Finance Minister Jeroen Dijsselbloem said a U.K. court ruling on Thursday that prevents Prime Minister Theresa May from unilaterally beginning Britain's exit process from the European Union will cause uncertainty.
"I hope this doesn't cause even more vagueness and more of a delay because that's bad for the U.K. as well as for the EU and for the Netherlands," Dijsselbloem, who also chairs the group of euro-area finance ministers, said in an interview. "One of the biggest risks of this process is that it will lead to a very long period of uncertainty and that's always bad for the economy."
The U.K. must hold a vote in parliament before starting the two-year countdown to Brexit, a panel of London judges decided, likely setting up a constitutional confrontation at the country's supreme court next month. The pound, which performed the worst among the major currencies before the judgment, rose by as much as 1.2 percent.
The decision is a setback to May, who had said she intended to invoke Article 50 of the Lisbon Treaty by the end of March. The U.K. government said it would appeal the decision, and the supreme court has already set aside time for a hearing between Dec. 5-8.
"This leads to more uncertainty on the outcome and the timeline and that's not positive," Dijsselbloem said, adding that from a democratic perspective, the result is good.
Before it's here, it's on the Bloomberg Terminal.
LEARN MORE