Carney Says BOE Could Move Either Way as Inflation Picks Up
By and
BOE officials have 'limited tolerance' to above-target CPI

Governor won't comment further on 'saga' over his tenure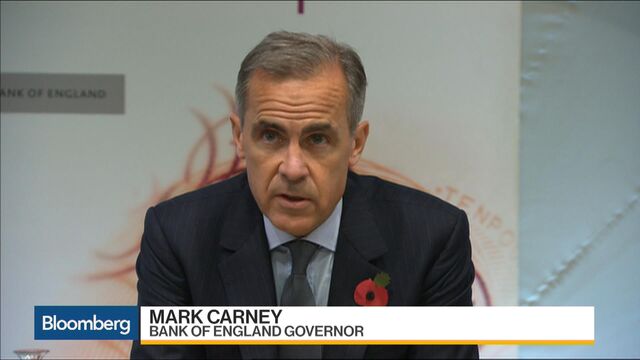 Mark Carney said the Bank of England is ready to tighten or ease monetary policy in response to inflation developments, dropping its earlier intention to cut the key rate to a new record low.
"Monetary policy can respond in either direction to changes to the economic outlook as they unfold to ensure a sustainable return of inflation to the target," the BOE governor said on Thursday, after he and the rest of the Monetary Policy Committee unanimously voted to leave interest rates and asset purchase-settings unchanged. "We have a neutral bias around policy going forward."
With the pound's weakness in the aftermath of Britain's decision to leave the European Union pushing up inflation faster than anticipated, the MPC said earlier that had "adversely affected" how they view the trade-off between supporting growth and reining in inflation. Having lowered interest rates in August in response to the Brexit vote, the MPC said its previous guidance on the likelihood of another cut had "expired," and its tolerance for faster price gains was now limited.
The pound extended gains and traded up 1.4 percent at $1.2476 as of 1:17 p.m. in London. The currency earlier surged after a court ruling that the government must hold a vote in Parliament before starting the two-year countdown to the nation's exit from the European Union. The government said it will appeal.
Responding to that decision by a panel of London judges, Carney said "it's an example of the uncertainty that will characterize this process."
Biggest Overshoot


"There's still a lot of bad news in the release today, even though it is not viewed by markets this way," said James Rossiter, senior global strategist at The Toronto-Dominion Bank and a former BOE official. "We've got some dark clouds looming on the horizon and it sort of leaves us questioning whether a completely neutral bias is the most appropriate one."
The central bank now sees consumer-price growth rising above its 2 percent goal early next year and staying above that level right through its forecast period. It said inflation will be at 2.5 percent in late 2019, the biggest three-year overshoot it's ever predicted. Carney declined to identify if there's a rate that officials would consider too high.
Asked if the BOE could intervene on currency markets if the pound's fall were to continue or accelerate, he didn't rule it out. The BOE hasn't acted to support sterling since 1992.
"We don't target the exchange rate, we target inflation," he said. "That's not to say we're indifferent to the exchange rate. We care about why it moves and the combination of the exchange rate and other factors that are driving the economy and inflation."
The 9-member MPC said that the pound's impact on inflation will prove temporary and attempting to fully counter it with tighter policy "would be excessively costly in terms of foregone output and employment growth."
Holding Pattern
"They don't really know what's happening" and "I see this pretty much as a holding pattern," said former BOE policy maker Danny Blanchflower in a Bloomberg Television interview. "They're trying to reassure people that they will do whatever's needed."
Reflecting the U.K. economy's recent strength, the BOE also raised its near-term projections and sees growth of 2.2 percent this year and 1.4 percent in 2017. But it lowered its view on 2018 to 1.5 percent, citing the inflationary squeeze on households and "persistent uncertainty" over the U.K.'s negotiations with the European Union.
The BOE's acknowledgment of the economy's recent strength leaves Carney open to further criticism from pro-Brexit campaigners, who've accused him of being too gloomy on the potential fallout from the referendum and talking down the economy.
Saga Closed
Carney, who has faced calls to quit from Brexit campaigners irked by his apparent stance on the topic, announced this week that he'll stay in his post to mid-2019. That's one year longer than originally planned and should take him past Britain's exit from the EU, which is due in early 2019. At the press conference, he dismissed further questioning on that topic.
"We've all had enough of that saga," he said. "Let's not reopen it."
In its analysis on Thursday, the BOE said output growth was expected to be stronger this year, "reflecting the resilience in particular of indicators of household spending and sentiment."
But with the weaker medium-term view, the overall level of output growth will still be slightly lower over the forecast period than anticipated in August.
The bank also published an analysis of the impact of the weaker pound on exports. It said the size of the effect wasn't certain as it would depend on how companies anticipate the EU negotiations will unfold.
The MPC voted unanimously to keep the key rate unchanged, maintain the gilt-purchase target at 435 billion pounds and the corporate-bond purchase target at 10 billion pounds. Ian McCafferty maintained his opposition to the gilt plan and Kristin Forbes to both asset programs, though they voted to keep them running as reversing them could have a negative impact.
— With assistance by Catherine Bosley, Mark Deen, John Ainger, Fergal O'Brien, Scott Hamilton, Lucy Meakin, Zoe Schneeweiss, and Emma Ross-Thomas
Before it's here, it's on the Bloomberg Terminal.
LEARN MORE