Business Insider's Owner Is Shunning Turkey Amid Media Crackdown
By
German publisher will sell 7% stake in broadcaster Dogan TV

Turkey is trampling on press freedom, CEO Doepfner says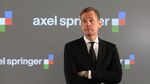 Axel Springer SE, owner of the news site Business Insider, won't make new investments in Turkey because of the country's crackdown on journalists, its chief executive officer said.
Berlin-based Axel Springer will sell its remaining 7 percent stake in Turkish broadcaster Dogan TV, CEO Mathias Doepfner said Thursday after Turkey last weekend expanded its crackdown on the country's press following the failed July 15 coup.
"The developments in Turkey are very worrisome," Doepfner, a former journalist who worked his way from the newsroom to the executive suite, said on a call with reporters. "Press freedom is being trampled upon."
Doepfner's comments show that Turkey is at risk of losing more than independent reporting. Western companies are wary of investing in a country where the government is cracking down on the opposition at a time when growth was already slowing and the currency was weakening. President Recep Tayyip Erdogan's response to the crisis threatens to further complicate Turkey's already embattled efforts to join the EU, a major attraction to Western companies like Axel Springer, one of Europe's biggest publishers.
Read more: A QuickTake explainer on political tensions in Turkey.
Turkish authorities closed 10 newspapers, two news agencies and three magazines, most centered in the Kurdish-dominated southeast, according to a decree published Saturday in the Official Gazette. Police also detained Murat Sabuncu, the top editor of major opposition paper Cumhuriyet.
Doepfner hasn't been shy about taking on Erdogan. After a comedian ridiculed Erdogan in a poem on German TV this year, Doepfner published an open letter in Axel Springer's Die Welt newspaper supporting the performer and daring Erdogan to sue. Erodgan in May lost a bid to have a German court silence Doepfner, who said his support for the comedian was meant to defend freedom of art and satire.
Axel Springer, which has in the past exited markets including Russia and China, has options to sell its remaining stake in Dogan TV for about 170 million euros by 2022, a company spokesman said Thursday. The publisher sold 2.3 percent in Dogan TV for 55.3 million euros in January.
More than 130 media organizations, including 16 television broadcasters and 45 newspapers, have been closed by the government since the coup attempt. Turkey ranks 151st of 180 countries on the Reporters Without Borders Press Freedom Index, between Tajikistan and the Democratic Republic of Congo.
Before it's here, it's on the Bloomberg Terminal.
LEARN MORE