Stocks Almost Always Rise Before an Election. Not This Year
By and
S&P 500 rose before 20 of last 22 presidential votes

Benchmark index caps eighth straight decline as anxiety mounts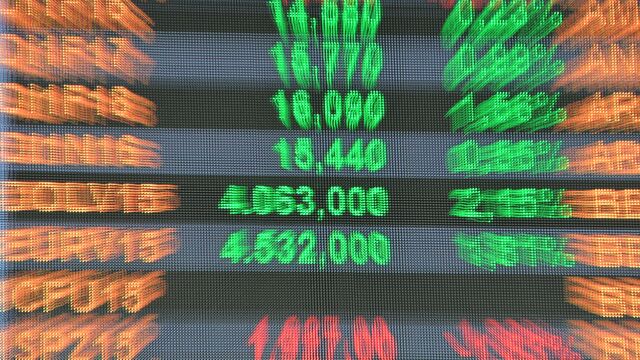 The 2016 election has confounded pundits, upended precedent and now it's spurring unusual patterns in the U.S. equity market. To wit: stocks almost always rise in the days before the country picks a president. This year, they're falling.
The S&P 500 Index has advanced in the five days before the vote in 20 of the past 22 cycles, according to data compiled by Bloomberg and Bespoke Investment Group LLC. While the gauge has climbed an average 1.9 percent in the run-up to elections going back to 1928, it's down 1.8 percent since Monday, with two market days left until polls open Nov. 8. The index fell 0.4 percent Thursday, to 2,088.66 at 4 p.m. in New York., slumping to the lowest since July 5 as losses accelerated in the late afternoon.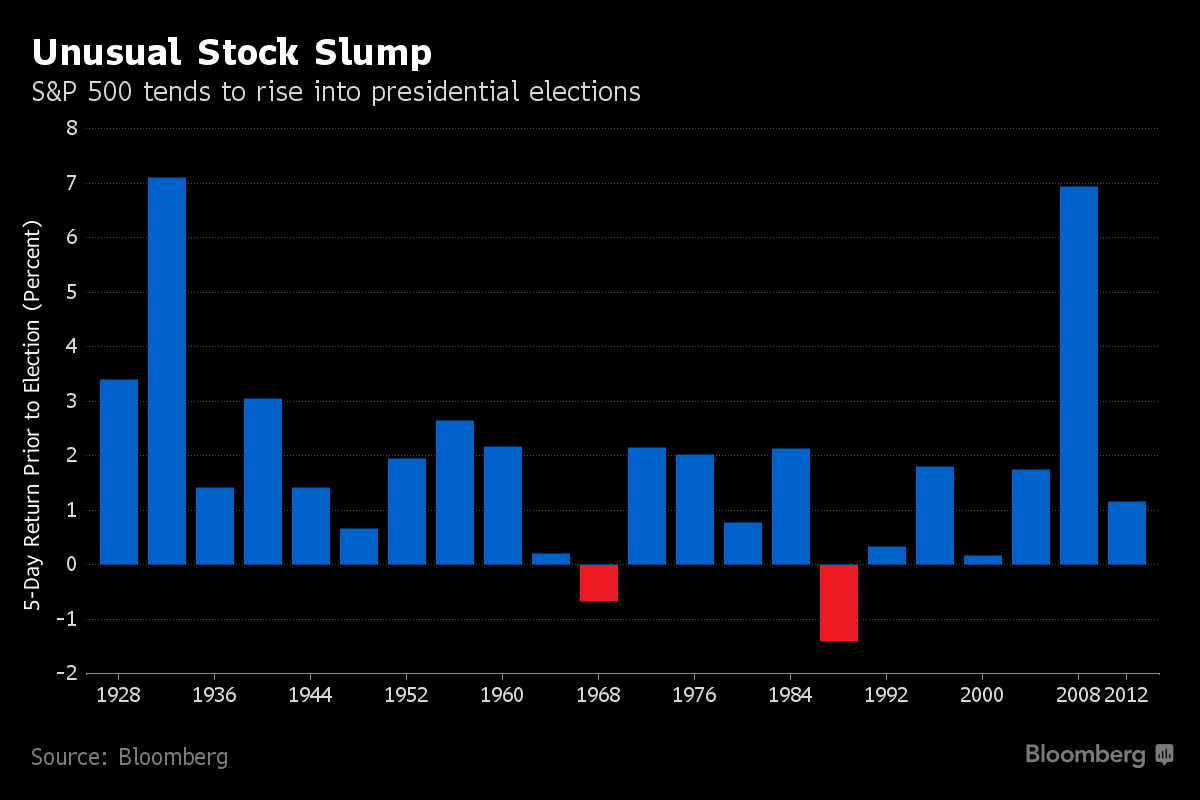 Blame it on narrowing polls and the experience of traders during the last political drama they were asked to navigate, Britain's vote to secede from the European Union, which proved costly to anyone going all-in on odds makers. A tightening race has sent the S&P 500 down eight straight days, the longest slump since 2008, and pushed the CBOE Volatility Index to its lengthiest streak of gains on record.
"It all has to do with certainty and uncertainty, that's what's driving markets: the headlines and politics are the biggest headlines," said Ernie Cecilia, chief investment officer at Bryn Mawr Trust, which oversees $9.6 billion in Bryn Mawr, Pennsylvania. "The recent decline has more to do with the top of the ticket polls getting tighter. The market hadn't factored in the possibility of a Donald Trump presidency."
Just four months removed from the U.K.'s shock decision to leave the European Union in an outcome not predicted by betting markets, anxiety levels have spiked in the final week of an election season marked by twists that have seen Democrat Hillary Clinton's once dominant lead over Republican Donald Trump wither in recent polls. The Brexit shock sent the S&P 500 tumbling 5.3 percent in two days, while the VIX spiked the most in five years.
Stretched Valuations
The hard-to-predict election is adding anxiety to a market that already has plenty to fret about. Valuations remain their highest since 2009 as central banks around the world have kept monetary policies loose. U.S. companies today trade at 77 percent higher valuations on a price-earnings basis than they did when the 7 1/2-year bull market began.
Even as valuations have grown, earnings haven't kept pace. Corporate profits have contracted for five quarters in a row, the longest run since the financial crisis. The stretched equity prices and sluggish earnings have made some traders skittish. Investors have pulled $100 billion from mutual and exchange traded funds that track U.S. stocks since January, an almost unprecedented rate.
While forecasts predict the earnings recession is set to end this quarter as most S&P 500 companies that have reported thus far have beaten estimates, the good news for corporate profits hasn't been enough to shake investors' election anxiety. Trading in options that protect against a market decline reached its highest level since April last week, ahead of Wednesday's FOMC meeting where officials signaled the Federal Reserve will likely raise interest rates in December.
Earnings Focus
"Markets are always adjusting and they're handicapping in the short run what the outcome will be," said Kevin Caron, a Florham Park, New Jersey-based market strategist and portfolio manager who helps oversee $180 billion at Stifel Nicolaus & Co. "Everyone wants to talk about the election but the market is moved by more of the latter points: the outlook for earnings and the outlook for interest rates."
Corporate results did little to buoy the market Thursday, with Facebook Inc. suffering the steepest slide since February after executives indicated the company will see slower revenue growth and higher costs. American International Group Inc. dropped the most in four months after posting a profit that was short estimates. Marathon Oil Corp. jumped 11 percent after reporting a smaller-than-predicted loss, while production exceeded forecasts.
The Nasdaq Biotechnology Index slumped 2.9 percent to a four-month low after people familiar with the matter said U.S. prosecutors are bearing down on generic pharmaceutical companies in a sweeping criminal investigation into suspected price collusion. Endo Pharmaceuticals Plc plunged more than 19 percent, the most in six months.
Almost 80 percent of S&P 500 companies have reported earnings this season, with 56 percent beating sales expectations and 76 percent topping profit forecasts. Analysts forecast profit for the benchmark's members will rise 1.6 percent for the period, on pace to end the longest earnings recession since the financial crisis.
Tech, Health-Care
The S&P 500 ended below the technically sensitive 2,100 level yesterday for the first time since July 7. The Dow Jones Industrial Average today slipped 28.97 points, or 0.2 percent, to 17,930.67. The Nasdaq Composite Index lost 0.9 percent as Facebook paced a selloff in technology companies, and health-care dropped to an eight-month low. About 7.3 billion shares traded hands on U.S. exchanges, 12 percent more than the three-month average.
Investors yesterday were unmoved by the Federal Reserve's widely expected decision to stand pat on interest rates. Policy makers reinforced expectations for a hike in December after saying the argument for higher borrowing costs strengthened further amid accelerating inflation. Traders are pricing in a 78 percent chance the central bank will act next month.
Ahead of the government's monthly payrolls report, a reading today showed filings for unemployment benefits unexpectedly rose to the highest level in almost three months. Another measure indicated service industries expanded less than projected in October, consistent with moderate growth in the biggest part of the economy. Data also showed factory orders in September rose more than forecast.
Before it's here, it's on the Bloomberg Terminal.
LEARN MORE