Zuma Abandons Bid to Block Release of Graft Ombudsman's Report
By and
South Africa president opposed release of report in High Court

Public Protector is obliged to release findings: opposition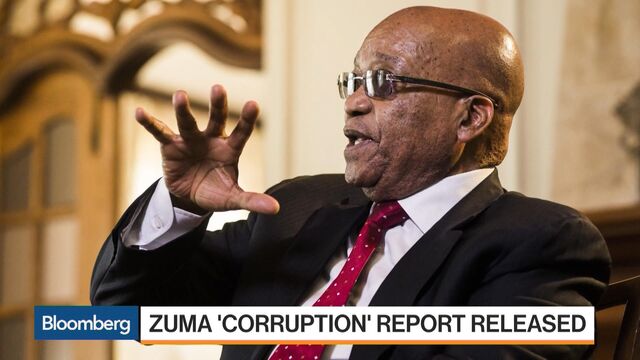 South African President Jacob Zuma abandoned a High Court bid to halt the release of a report of the nation's graft ombudsman into allegations that the Gupta family, who are his friends, wielded undue influence over the government.
Anthea Platt, Zuma's lawyer, made the announcement Wednesday in the High Court in Pretoria, the capital. Zuma had argued that he hadn't been given adequate opportunity to respond to findings made in the Public Protector's report and question witnesses. Four political parties including the Democratic Alliance and Economic Freedom Fighters opposed his application.
The decision marked the latest setback for Zuma, who's facing growing pressure to resign. Chief executives of some of South Africa's biggest companies are joining protests against his government in Pretoria along with members of civil rights, religious groups, opposition parties and a number of prominent members of the ruling African National Congress. The National Health and Allied Workers Union, a key ANC ally, on Tuesday urged the president to resign.
The Public Protector investigated whether members of the Gupta family sought to influence the dismissal and appointment of cabinet ministers and awarding of state contracts and licenses. The probe was completed just days before Thuli Madonsela's seven-year term as graft ombudsman came to an end and she was replaced by Busisiwe Mkhwebane, who didn't oppose the bid to halt the report's release.
Zuma Pressure
On Tuesday, the High Court ruled that opposition parties were entitled to participate in the case. Their lawyers argued that the graft ombudsman's report had been finalized and that Zuma could only challenge her findings in court after its release.
Zuma has come under pressure to explain his relationship with the Guptas, who he says are friends and are in business with his son, after current and former government officials claimed the family tried to influence their decisions. Both Zuma and the Guptas deny wrongdoing.
Deputy Finance Minister Mcebisi Jonas said in March that members of the family offered him the post of finance minister before Nhlanhla Nene was fired from the position and replaced by Van Rooyen, at the time a little-known lawmaker. The move sparked a selloff in the rand and nation's bonds and led to the reappointment of Pravin Gordhan after business and political leaders intervened.
Zuma has clashed with the Public Protector before. In 2014, Madonsela found that the president unfairly benefited from a 215.9 million-rand ($16 million) taxpayer-funded upgrade of his private home, and in March this year the Constitutional Court found that he had violated his oath of office by refusing to abide by her recommendation to repay some of the money.
Before it's here, it's on the Bloomberg Terminal.
LEARN MORE