Why Tonight's Dueling World Series Ads Favor Trump Over Clinton
Each candidate plans to run three spots during the game.
By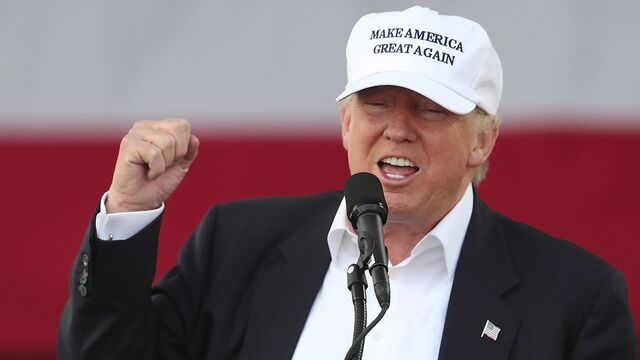 Anyone tuning into Game 7 of the Cubs-Indians World Series tonight hoping for a respite from presidential politics isn't going to find one: Both Hillary Clinton and Donald Trump have bought ad time during the game, which Bloomberg reports is going for $500,000 for a 30-second spot.
In fact, Trump, who loves nothing more than a big audience, is actually running three different ads.
"We are excited to take our message directly to the millions of sports fans watching the World Series," Jason Miller, Trump's senior communications adviser, said in a statement. 
But Clinton, who was a Cubs fans before her New York Senate run transformed her into a Yankees fan, won't let Trump's ads run uncontested during what will undoubtedly prove to be a massive primetime audience. According to CNN, she's also booked three spots, including one lasting 60 seconds. 
The audience demographics of primetime baseball broadcasts are banked toward Trump, according to Will Feltus, senior vice president at National Media, a firm that places political ads on television.
While the audience for major sports broadcasts like the Super Bowl and World Series typically skews Republican (this is mostly a function of gender—more men tune in than women), the World Series audience is even more Republican. Its viewers are also more likely to vote than the Super Bowl audience thanks to a higher percentage of what the marketing folks call "elites" and "influencers"—the 30 percent or so of adults who are best informed about politics and most likely to vote. 
"Compared to pro football, the baseball audience has larger percentages of high-information, politically active and high-turnout voters," said Feltus. 
That's all good for Trump. But there's a limit to how much these very expensive ads will help him on Election Day. 
"By the time you get to the seventh game of the World Series," Feltus pointed out, "most of them have already made up their minds."