Why Kelly Ayotte's Fate Isn't Tied to Donald Trump's
Facing a tough re-election campaign, the New Hampshire senator has sought to distinguish herself from the Republican presidential nominee.
By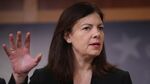 To keep her Senate seat, Kelly Ayotte is going to need people like long-time Republican Michelle Salvatore, a 52-year-old safety engineer from Bedford, New Hampshire. Salvatore, one of several voters Ayotte talked to Saturday evening during the dinner rush at T-Bones Great American Eatery, said she thinks Ayotte's Democratic opponent, Governor Maggie Hassan, would be a "rubber stamp" on Hillary Clinton's agenda and doesn't blame Ayotte for pulling her support from Donald Trump. 
"I think his positions put all of the Republicans in a very difficult situation," she said. Salvatore said she's voting for Ayotte, but likely won't know who she'll vote for in the presidential race until she's in the voting booth. 
Ayotte is fighting for re-election in a deadlocked race against Hassan, an equally well known and well liked figure in the state who has accused Ayotte of backing corporate special interests and tried to tie her to Trump's long list of controversial comments about women. But with less than a week to go before the election, Ayotte has seen minimal defections from Trump supporters and Hassan has struggled to significantly push down the incumbent's popularity. 
Instead, Ayotte's fate will depend on whether she can convince voters that she's not representative of their worst preconceived notions of Washington Republicans: obstructionist, partisan, anti-women, and too conservative to reflect the values of a state that values its independence. 
"I think that's one of the reasons why [her opponents] want to take her out," said Neil Levesque, the executive director of the New Hampshire Institute of Politics and Political Library at Saint Anselm College. "It's very hard to put her in this frame of she's an angry white male."
Democrats are hoping that her voting history on the environment, women's issues, and education will challenge the idea that she's a bipartisan voice.
Outside Forces
Ayotte said in an interview with Bloomberg Politics that voters should be more concerned with Hassan's continued support of Clinton following the resurgence of her e-mail controversy, rather than her decision to withdraw support from Trump.
"I think we're a very independent spirited state, so the biggest issue I would think is, 'Are you willing to stand up to your own party when you don't think that they're doing the right thing or going in the right direction?'" Ayotte said. 
Hassan countered that Ayotte's voting record shows "very poor judgment on her part, in terms of who and what positions she supports" and proves she's more loyal to her party than her state. "I think it shows everything is a political calculation and that the people of New Hampshire can't count on her to stand with them," she told Bloomberg Politics. "They can count on her to put her party, her politics and appropriate special interests that back that party and that politics first." She added that Ayotte's decision to write-in Indiana Governor Mike Pence isn't any better, given his record on women's issues.
The Trump critiques segue into a more serious criticism of Ayotte's record in the Senate: she voted against clean water protections, voted to cut Pell grants and against letting students refinance their student loans, voted to defund Planned Parenthood, and has said Roe v. Wade should be overturned. 
It's unclear how much of an affect Trump, and Ayotte's decision to withdraw her endorsement of him, have had on the senator's re-election chances. Some Trump supporters, like Republican state representative John Burt, have publicly pulled their support over her political maneuvering. Last month, Burt posted a picture of a sample ballot with a write-in candidate for U.S. Senate to Facebook.
Levesque said polls show Ayotte has "absolutely" been hurt with Trump's core group of supporters. "Whether or not that is a large enough group is the question," he said. Levesque added that Hassan could also be hurt by Clinton's bad week in the wake of the renewed focus on her e-mails and the private server she used while secretary of state.
"If she can't answer questions about Hillary Clinton, that could be a problem for her as well," he said, referring to Wednesday night's final Senate debate. Hassan also announced this week that she would return $51,000 in questionable donations from a law firm that paid bonuses to employees who donated to Democrats.
Both candidates have seen their favorability ratings decrease throughout the campaign as controversy surrounded both presidential nominees and millions of dollars poured into the race. Nearly $80 million in outside money has been spent on the Ayotte/Hassan contest, making it the second most expensive senate race in the country after Pennsylvania's. Of that, $40 million has been spent attacking Ayotte, and $29 million has been spent against Hassan. 
New Hampshire voters have been subjected to increasingly negative ads. Late last month, Granite State Solutions, a Republican super-PAC with ties to Senate Majority Leader Mitch McConnell, released an ad tying Hassan to a former teacher at Phillips Exeter Academy dismissed for sexual misconduct who donated to her campaign. 
After Ayotte said she would "absolutely" call Trump a role model during a debate in early October, Hassan's campaign went on the air with an ad weaving those comments with excerpts from the leaked Access Hollywood video in which Trump boasted of sexually assaulting women. Ayotte has since said she misspoke.
Following FBI Director James Comey's letter to Congress last week on the discovery of more e-mails related to an investigation of Clinton, Ayotte's campaign released a digital ad mixing news reports on the e-mails with clips of Hassan struggling to answer a question on Clinton's trustworthiness. 
According to a Monmouth poll released Oct. 26, while the top-line numbers in the race have hardly shifted since September, Ayotte's net favorability dropped from +16 to +1 while Hassan's dropped from +20 to +5. The shift with women was more noticeable: Hassan dropped from +31 to +28, while Ayotte went from +2 to -18. 
Still, Ayotte has managed to consistently poll above Trump in the state. According to polling averages by RealClearPolitics, Clinton has led Trump in New Hampshire since August, while Ayotte and Hassan have traded leads through the summer and fall. Trump is currently losing the state by an average of 4.7 percentage points in the two-way race, while Ayotte is leading Hassan by an average of 1.8 percentage points. 
"Trump creates a whole lot of turmoil that many Republicans have been unable to escape his vortex, but Kelly Ayotte has been able to, at the right time, ensure that her brand is different than the Trump brand," said Patrick Griffin, a New Hampshire-based GOP strategist.
Retail vs. Rallies
Part of Ayotte's distinct brand has been built through necessity. While Pence campaigned for the Trump-Pence ticket in Rochester on Saturday, Ayotte was an hour away, sprinting through a packed schedule of retail events in the Manchester area: bingo with seniors, the Manchester Fall Festival, a Trick or Trot 3K race, the Thirsty Moose bar during the Patriots game, the dinner rush at T-Bones, and dinner with Vietnamese community members. Saturday was the final day of a three-day bus tour the senator took across the state. Ayotte has been holding five to six retail stops a day for weeks, according to her campaign.
Hassan, meanwhile, has benefited from the Clinton campaign's immense investment into its coordinated campaign offices in swing states. The Clinton campaign has 27 offices in New Hampshire and more than 100 staffers. Hassan has also focused on larger events like canvass kick-offs and rallies with Clinton and popular surrogates like Senators Bernie Sanders and Elizabeth Warren. When first lady Michelle Obama gave a speech last month in Manchester denouncing Trump's "predatory behavior," Hassan was there campaigning with her. 
New Hampshire, which has a population of 1.3 million, will have just under 1 million registered voters on Election Day. Given the size of the state and both candidates' high name recognition, retail efforts could make the difference. A WMUR/UNH poll released Monday found that 29 percent of voters, including 39 percent of independents, are still trying to decide who to vote for in the Senate race. 
"It's a very conducive place for someone who's willing to patiently take five or six or seven questions, sometimes from the same voter, in smaller, more intimate settings where they are challenged," Griffin said. 
Known for holding larger events, Hassan has also started making more retail stops. On Saturday, she talked to people like Carol Mack, a 66-year-old retired elementary school principal, grocery shopping at the Market Basket in Londonderry. Mack said she'd already cast her ballot early for Hassan and praised her for being "a real grassroots kind of governor" for participating in local parades, including one that passes by her house every year. Her vote, she said, was based on Ayotte's conservatism and her desire to see more Democrats in Washington. 
"I think Donald Trump is an anomaly and I hope he stays that way," Mack said, but "these two women had already established themselves when Donald Trump came onto the scene."

Before it's here, it's on the Bloomberg Terminal.
LEARN MORE