U.S. ELECTION WRAP: Clinton Keeps Comfortable Lead in Wisconsin
A new poll shows Hillary Clinton maintaining her lead in Wisconsin as Donald Trump makes a bid for Democratic-leaning states in the last days of the campaign.
By and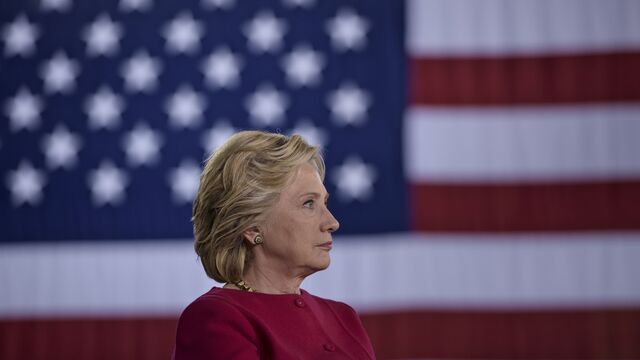 A new poll shows Hillary Clinton with a 6-point lead in Wisconsin, one of the Democratic-leaning Midwest states she must retain to fight off a renewed push by Donald Trump to win over Rust Belt voters.
Clinton has support of 46% of likely voters in the Badger State vs. 40% for Republican Donald Trump, according to a Marquette University Law School Poll

Libertarian Gary Johnson is backed by 4%, Green Party candidate Jill Stein by 3% and 6% didn't express a preference

The Oct. 26-31 survey captured voters' views after Oct. 28 news that the FBI was reviving its investigation into Clinton's use of a private e-mail server while secretary of state

Prior to the surprise development, 50% of respondents said they were "bothered a lot" by Clinton using the private server. On Oct. 28, that figure rose to 60% before dropping to 48% on subsequent polling days, according to the survey
"Concern about Clinton's use of a private e-mail system does not appear to have shifted much in the wake of the FBI news," Charles Franklin, director of the Marquette Law School Poll, said in a statement

Marquette polling showed spike in Trump vote on Oct. 28, when Comey disclosed additional e-mails in letter to senior lawmakers; that receded in days after

Wed-Thurs: Clinton 47%-36% Trump
Friday: Clinton 40%-48% Trump
Sat-Mon: Clinton 46%-40% Trump

Statistics expert Nate Silver: "Small samples here but it's plausible that the FBI story was quite damaging to Clinton at first, then damage lessened as story evolved"
Washington Post's Dave Weigel, referencing "Independence Day" movie: "If you're Trump this is the part of ID4 when they nuke the spaceship and when the smoke clears it's still there"
The results somewhat mirror a Purple Slice online poll of independent voters conducted for Bloomberg Politics

In that survey, almost half the voters said renewed scrutiny of Clinton's e-mail won't affect their vote
The Democratic nominee holds a slim advantage over Trump among crucial independent voters, 39% to 35% in a head-to-head contest

WISCONSIN SENATE RACE
Trump, who last month was disinvited from a Wisconsin GOP campaign event in wake of fallout from the Access Hollywood tape, stumped in the Badger State Tuesday night with high-profile Republicans, including Wisconsin Gov. Scott Walker

Also joining Trump for the first time on the trail was Sen. Ron Johnson, who is viewed as one of the most vulnerable Senate Republicans running for re-election
Johnson and Democrat Russ Feingold are deadlocked, the new Marquette poll shows; Feingold is at 45% compared with 44% for Johnson
In early Oct., Feingold had 46%, Johnson 44%

In an interview with Beloit Daily News, Johnson said he thinks Clinton's actions in regard to her private e-mail server are impeachable offenses should she be elected president

TRUMP MATH
The latest Wisconsin poll comes as Trump is within striking distance of Clinton in some swing states, but still faces a steep climb to secure the 270 electoral votes needed to win the White House, new polls show
The GOP nominee lacks the electoral votes he would need for an Election Day victory, even if he wins crucial battlegrounds like Florida and Ohio, an electoral map analysis finds

If Trump takes all the main battlegrounds and holds onto states won by GOP nominee Mitt Romney four years ago, he still would have to get one of the more Democratic-leaning states, such as Wisconsin, New Hampshire, Michigan, Pennsylvania or Colorado

In Colorado, Clinton has flipped dynamics to take a 44%-41% advantage vs a previous lag of 4 points, an Emerson College survey finds

Clinton holds a 4-point lead in Pennsylvania, a new CNN/ORC poll shows
RealClearPolitics average of polls has Clinton leading Trump in head-to-head match-ups by 5 points in Pennsylvania, 4.7 points in New Hampshire, 6.6 points in Michigan and 5.7 points in Wisconsin. The race looks closer in Colorado, with the Democratic nominee leading by 2.4 points.

POLLS/PREDICTIONS
Clinton and Trump are tied at 46% in latest ABC/Washington Post Tracking Poll; yesterday, Trump led Clinton 46%-45% in same survey
An updated battleground map from NBC News has Clinton with 274 electoral votes in her column, more than the 270 needed to win the presidency, but down from last month's forecast of 287; Trump's total has increased to 180, up from 157 in mid-October
CNN/ORC polls of four swing states show a "tight race to the finish," the TV news network reported

Pennsylvania: Clinton 48%, Trump 44%
Florida: Clinton 49%, Trump 47%

Nevada: Trump 49%, Clinton 43%
Arizona: Trump 49%, Clinton 44%
Emerson College polls find Trump has gained in Arizona, Georgia and Missouri, while Clinton leads in Colorado, 44%-41% (she previously trailed Trump by 4 points)
Clinton is at 46% and Trump at 45% in Florida, according to Quinnipiac University poll

Ohio: Trump at 46% and Clinton at 41%
Pa.: Clinton at 48% and Trump at 43%
N.C.: Clinton at 47% and Trump at 44%

In Virginia, Clinton leads Trump 44%-39%, a Winthrop University poll of likely voters shows

Early vote in North Carolina appears consistent with a Clinton lead, New York Times reports

ON THE TRAIL
With less than a week left, Trump and Clinton are criss-crossing the country to make their final pitches in crucial swing states
Clinton is using one of her last days on the trail to campaign in Arizona, where she is the first Democratic presidential nominee to run competitively in 20 years, according to the Arizona Republic

Trump leads in Arizona by 3 points in a 4-way contest, RealClearPolitics polling average says

Clinton on Wednesday evening will attend a rally in Las Vegas; while early voting trends favor the Democrats, Trump holds a 1.6-point lead in Nevada, according to RealClearPolitics

Sen. Bernie Sanders is campaigning for Clinton in Michigan and Wisconsin, both states where Clinton holds average polling leads of more than 5 points

A renewed focus on Michigan was underscored earlier this week when Trump held a rally in the state on Monday and Clinton announced plans to campaign in Detroit on Friday
Trump stumped in Miami Wednesday afternoon, and he later holds rallies in central and north Florida; Trump said he's enjoying a big advantage in the Sunshine State
"We are way up in Florida," Trump told the crowd in Miami. "I shouldn't say that because I want you to go vote. We are going to pretend we're down -- we're down!"

OBAMA
President Obama campaigned for Clinton Wednesday in Chapel Hill, N.C.; Clinton and Trump are in a tie in North Carolina, polling average shows, according to RealClearPolitics
Separately, Obama told the "Tom Joyner Morning Show," a syndicated radio program that attracts a largely black audience, that the African-American vote isn't as "solid" as it needs to be for Clinton

The president said early voting shows Latino and overall vote is up

ENDORSEMENTS/DENOUNCEMENTS
Libertarian Party's vice presidential nominee, former Massachusetts Gov. Bill Weld, for all intents and purposes endorsed Clinton on Tuesday night: Washington Post
Ayatollah Ali Khamenei, supreme leader of Iran, said both Trump and Clinton underscore the U.S.'s decline
GOP Nevada Senate candidate Joe Heck won't sat if he's voting for Trump, though on Tuesday said the Republican presidential nominee would make a good commander-in-chief: Politico

ETC.
President Obama, asked in interview with NowThisNews if he was upset by timing of FBI Director James Comey's letter to lawmakers about the Clinton investigation, said he's "made a very deliberate effort to make sure that I don't look like I'm meddling in what are supposed to be independent processes for making these assessments."
Trump's improving odds are causing jitters in the market, prompting investors to seek safety in gold
Canada, home to the largest share of Americans living abroad, is mobilizing against Trump, with volunteers working the phones to drive turnout as Canadians travel to the U.S. in effort to help election Clinton, Bloomberg's Josh Wingrove reports
Trump Is Doing Conspiracy Theory All Wrong: Bloomberg

CONGRESSIONAL ELECTIONS
SENATE RACES (Republicans hold 54-46 majority)
FL: Florida First Project, a super-PAC backing Republican Sen. Marco Rubio, released TV ad saying Democratic Rep. Patrick Murphy is an "epic liberal" who's voted for "higher taxes"

Ad cites Murphy's votes in 2013 and 2015 against repealing the Affordable Care Act and his vote in 2015 against Republican legislation related to EPA rules on carbon dioxide regulations for existing power plants
Florida First PAC raised $1.15m from Oct. 1-19, including $500k from Deg Capital Management executive Lawrence DeGeorge of Jupiter
IN: Democrat Evan Bayh in TV ad said he was "fed up with the partisanship" and acknowledged he "built a good life for my family" after leaving Senate in 2011, "but I couldn't just sit on the sidelines and accept the mess in Washington"

Bayh said he'd "work with both parties to make progress for you"
Republican Rep. Todd Young and outside groups have painted Bayh as a Washington insider who made millions at Apollo Global Management and McGuireWoods after leaving Senate
Bayh, Young in close race for seat of retiring Republican Sen. Dan Coats
LA: Four Republicans and two Democrats seeking to succeed retiring Republican Sen. David Vitter will debate tonight at 8pm eastern time/7pm Louisiana time, New Orleans Times-Picayune reported; debate will air on C-SPAN

The Republicans participating are state Treasurer John Kennedy, Reps. Charles Boustany and John Fleming, and former state representative and KKK leader David Duke; the Democrats are state public service commissioner Foster Campbell and lawyer Caroline Fayard
With 24 candidates running in the Nov. 8 election, no one is likely to win a majority and a Dec. 10 runoff between the top two vote-getters is inevitable
NC: Republican Sen. Richard Burr's campaign aired TV ad attacking Obamacare and showing Obama saying "if you like your doctor or health care plan, you can keep it"

"It was a lie," narrator says in ad, which shows Democratic challenger Deborah Ross saying at Oct. 13 debate, "I would have voted in favor of the Affordable Care Act"
Ross also said at debate the ACA "clearly needs to be fixed, but it's much better than what we had before" and that she would have had opportunities to amend bill as a senator in 2009
NH: Republican Sen. Kelly Ayotte and Democratic Gov. Maggie Hassan will debate tonight at 7pm eastern time at St. Anselm College in Manchester

Debate will air on WMUR-TV and C-SPAN
PA: Democrat Katie McGinty had 47% to 44% for Republican Sen. Pat Toomey, according to Monmouth University Poll conducted Oct. 29-Nov. 1 of 403 likely Pennsylvania voters (+/- 4.9 ppts)
WI: Democratic ex-Sen. Russ Feingold in TV ad notes he traveled to all 72 Wisconsin counties and heard concerns about Republican Sen. Ron Johnson's positions on issues including Medicare and trade pacts

"The bottom line: People want an economy that delivers for them," Feingold says
Americans for Prosperity, a conservative group linked to billionaire businessmen Charles and David Koch, released TV ad referring to "Obamacare's failures" that shows footage of Feingold and Clinton defending the ACA
Feingold had 45% compared with 44% to Johnson in Marquette Law School Poll conducted Oct. 26-31 of 1,255 likely Wisconsin voters (+/- 3.5 ppts)
Nonpartisan political analysts have rated Feingold as the favorite throughout the campaign, though stepped-up TV activity from outside groups on both sides point to closer-than-expected race
HOUSE RACES (Republicans hold 246-186 majority)
PREDICTIONS: Republicans probably will lose a net "13, 14, 15 seats" but keep their majority, political analyst Charlie Cook said today at Economic Club of Washington, D.C.

Democrats need a net gain of 30 seats for a majority
SPENDING: Democratic Congressional Campaign Committee reported $14.3m in spending in Federal Election Commission filing today
CA-21: Republican Rep. David Valadao's campaign released TV ad referring to Democratic lawyer Emilio Huerta as "dishonest, greedy, dangerous"

Huerta's mother is Dolores Huerta, the labor icon who co-founded what's now known as United Farm Workers
Central Valley district is more than 70% Hispanic and includes Hanford, Delano, and part of Bakersfield
MN-02: Democrat Angie Craig's campaign released TV ad of Republican man saying he's voting for Craig and opposing Republican Jason Lewis, who "bullies people" and "insults women and minorities"

Craig, a former St. Jude Medical Inc. executive, and Lewis, a former radio talk-show host, are seeking to succeed retiring GOP Rep. John Kline in competitive district south of Twin Cities
NE-02: Democratic Rep. Brad Ashford's campaign released TV ad showing the congressman jogging as narrator says he's been "working with both parties" and noting endorsement from Omaha World-Herald editorial page

Ashford, one of five House Democrats from a district Obama didn't win in 2012 election, opposed by Republican Don Bacon in district that includes all of Douglas County and part of Sarpy County
NJ-05: The race between Republican Rep. Scott Garrett and Democrat Josh Gottheimer "has seen its share of nasty accusations" and now "pay to play and bribery can now be added to the list," Bergen Record reported
VA-05: Congressional Leadership Fund, a Republican super-PAC, in TV ad referred to Democrat Jane Dittmar as a "liberal" who would "rubber-stamp Hillary Clinton's agenda" and supports Obamacare

Dittmar, a mediator and former Albemarle County supervisor, seeking upset against Republican state Sen. Tom Garrett for district of retiring GOP Rep. Robert Hurt
Before it's here, it's on the Bloomberg Terminal.
LEARN MORE