These Charts Show How the Corruption Scandal Has Roiled South Korean Markets
It might be just the beginning.
By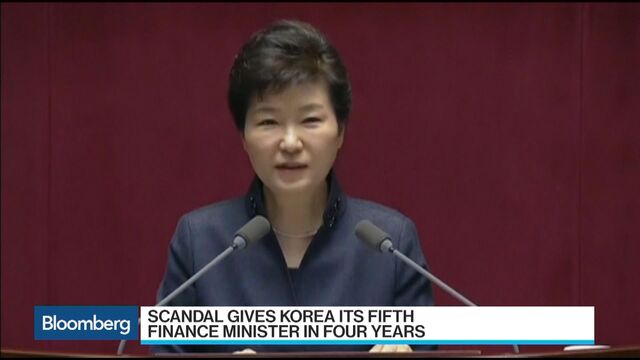 In South Korea, it's not uncommon to see presidents making apologies for bribery scandals involving their family members and associates.
But when incumbent President Park Geun-hye hastily arranged a nationally televised briefing last week, and apologized to the nation "for causing concerns" and shock, many were left agape at the sheer magnitude of a new corruption scandal.
In the Oct. 25 apology, Park acknowledged close ties with her old friend Choi Soon-sil, who has been held in emergency detention pending an arrest warrant on suspicion of exploiting her relationship with the leader to pull government strings and accumulate an illicit fortune. Choi, who holds no government job, is also alleged to have peddled influence over government decisions on personnel and state affairs.
"Barring the Korean War, it's by far the biggest crisis in South Korea's history," Park Tae-woo, professor at the Institute of Sustainable Development of Korea University, said in an interview.
"President Park has been on the forefront of pressing North Korea to abandon its nuclear ambition, and with the deployment of [Terminal High Altitude Area Defense] missile defense system, there's so much Park needs to do on the national defense front," he added. "But with this scandal, her government is not only losing its authority and support, but giving its people so much stress."

According to data compiled by Gallup Korea, President Park's approval rating plummeted to its lowest at 17 percent in the week of Oct. 24. The poll provider said the number further dipped to 14 percent shortly after the apology, a big decline from 25 percent a week earlier and 34 percent four months ago.
Over the weekend, thousands of protesters took to the streets of Seoul and held a candlelight rally calling for the president to step down. Meanwhile, the impact of the political scandal is being felt in markets, taking a toll on a wide variety of Korean assets. 
Korean stocks are getting hit
The so-called 'Choi-gate' is the latest blow to the South Korean economy, which is already showing signs of struggle amid high-profile corporate woes, such as Samsung Electronics Co.'s smartphone recall, a strike at Hyundai Motor Co. and Hanjin Shipping Co.'s bankruptcy. The Kospi index has fallen below 2,000 since the corruption allegations began to spiral out of control late October — though it remains in positive territory year-to-date.

Taking a chunk out of the market's value
Last week alone, Korean equities shed about 17 trillion won ($14.9 billion) worth of market cap, according to data provided by Korea Exchange.
"It's hard to gauge its economic fallout because it has just begun," Hong Chun-uk, head of the strategy analysis team at Seoul-based Kiwoom Securities Co., said in an interview. "It's such a shame to see the whole chaos happening when the government should be going all out to fight deflationary pressures with strong monetary policies, under strong initiatives."
According to Hong, South Korea is facing "very high risks" of deflation, with disappointing export figures and depressed domestic demand throughout the economy except for the real estate sector. Consumption recovered in the first half of the year, but it tumbled again in the third quarter, he added.

Banking stocks have been drawn in too
Stocks of the nation's major financials also dropped when prosecutors raided eight banks — Woori Bank, Standard Chartered Bank Korea Ltd., Shinhan Bank, Citigroup Inc., Nonghyup Bank, KEB Hana Bank, Industrial Bank of Korea and Kookmin Bank — to secure information on financial transactions of Choi and some other individuals.

Though there are some winners...
Shares of Korea Industrial Co., an animal feed producer that's related to the former head of Korea's main opposition party Moon Jae-in, have soared 112 percent since Oct. 24. The company is said to be 'Moon-themed' as one of its board members is close to the presidential hopeful for the 2017 election. 

And more losers...
Meanwhile, stocks related to Ban Ki-moon — such as Korea Cable TV Chung-Buk System Co. — have dropped. Ban, currently Secretary General of the United Nations, has been mentioned as a potential candidate for Korea's next presidential election, though it is unclear which party he might represent if he decided to run. Korea Cable is associated with Ban's rise and fall, as it's headquartered in his hometown. EG Corp, which is owned by Park's brother, Park Ji-man, has also seen its share price sliding due to its connection to the unpopular leader.

Meanwhile, the won is waning
Market analysts also expect the heightened uncertainties to influence the South Korean won — already one of the most volatile currencies in Asia, since foreigners will pull their money out of the country as the scandal unravels. 
And credit ratings are in focus
But other market watchers dismiss these pessimistic scenarios, saying the argument that it could negatively affect the country's sovereign ratings — as suggested by a lawmaker from the main opposition party — is overblown.
"These kinds of political scandals do present short-term risks, but sovereign ratings are also based on long-term trend factors such as fiscal strength and export figures and South Korea seems to have decent figures for those so far," said Ahn Jae-kyun, a Seoul-based analyst at Shinhan Investment Corp., in an interview.
On Tuesday, Moody's Investors Service affirmed the country's Aa2 rating, citing "very high economic, institutional, and fiscal strength" as well as budget surpluses and relatively low debt levels.

"What we must focus on right now is how to address structural issues such as changing demographics and low productivity, rather than just a single political scandal," said Ahn. "Foreign investment might decrease and the leadership of the president will weaken, but those are at best indirect factors."

(
Corrects third paragraph to show Choi is in emergency detention pending an arrest warrant, not under arrest. Corrects conversion of won into dollars in ninth paragraph.
)
Before it's here, it's on the Bloomberg Terminal.
LEARN MORE