Eisman of 'Big Short' Sees Massive Changes for Hedge Funds
By
Neuberger manager finds carried interest debate 'unfathomable'

He's concerned about possible correction with passive ETFs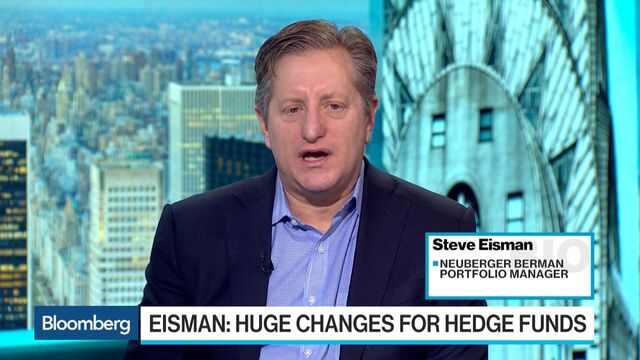 Steve Eisman, a fund manager at Neuberger Berman Group who was profiled in "The Big Short," says Europe still faces the risk of a financial crisis like the one portrayed in the book while the probability of such an event in the U.S. is very low.
"So much leverage in the United States has been taken out of the financial system," Eisman said on Bloomberg Television on Wednesday. "I don't think you can say the same thing about Europe, unfortunately."
Eisman, who joined Neuberger Berman after closing his hedge fund two years ago, said the industry is going through massive changes amid lackluster performance and relentless pressure on fees. He's concerned about the amount of money pouring into passive exchange-traded products because they are not hedged.
For more on Eisman's views on hedge fund fees, click here.
"As long as the markets keep going up, ETFs are fine," he said. "One day there will be a market correction and you wish you were in a hedged product."
The manager also said he strongly supports changes to carried-interest tax rates for private-equity firms. He said higher taxes wouldn't change the industry at all and that he finds the debate over such proposals "unfathomable."
Eisman said the 2010 Dodd Frank Act that imposed new rules on U.S. banks has succeeded in making the system safer, and that tearing it up would be a big mistake.
"Rolling back Dodd Frank would be a disaster," Eisman said. "It's actually done a very good job of de-risking and de-leveraging the system. It's not perfect but it's created an iterative system that has improved the financial system enormously. I can say honestly, for the first time in my Wall Street career, I am not worried about the U.S. financial system."
Eisman was profiled in Michael Lewis's book, "The Big Short," and a character based on him was played by Steve Carell in the movie of the same name.
The manager said U.S. economic growth has been slow because the median income hasn't grown in 30 years and 70 percent of the economy is consumer-related.
"The economy has an anchor around its neck, and it's not going to change anytime soon," he said.
Watch Next: Eisman Says Hedge Fund Industry Undergoing 'Massive Changes'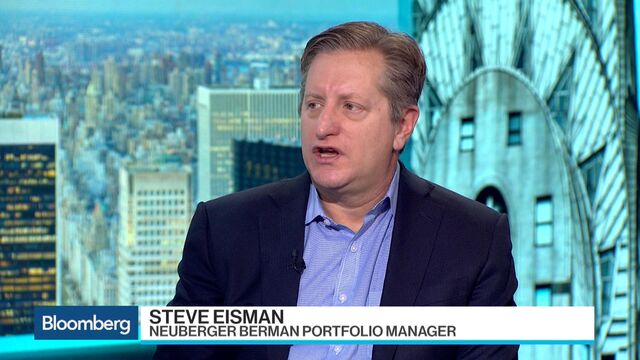 — With assistance by Tom Keene, Dakin Campbell, Keiren Buchanan, and Guy Johnson
Before it's here, it's on the Bloomberg Terminal.
LEARN MORE