Pound Climbs in Role Reversal as U.S. Election Risk Hurts Dollar
By
Worst-performing currency of 2016 rises to three-week high

There are signs Trump is closing the gap in the election race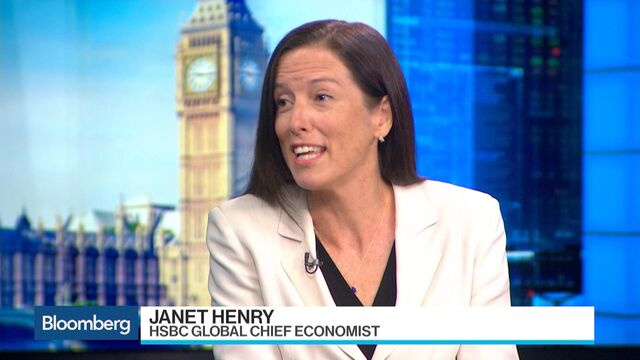 For once, the pound is benefiting from increased political risk.
Sterling rose to a three-week high versus the dollar after the U.S. currency was hurt by signs Donald Trump is closing the gap in the race for the White House. That marks a role reversal for the pound, which is 2016's worst-performing major currency after being dumped by investors concerned they have no clear picture of Britain's future outside the European Union.

Among the drivers of Wednesday's rally was a poll from a day earlier showing Trump had taken the lead over election rival Hillary Clinton for the first time since May. Investors have been shown to favor the Democrat, betting she'll uphold global trade agreements denounced by Republican Trump, who has also called for tighter immigration controls. Worse-than-predicted U.S. employment data also sent the dollar lower.
"Not a lot is going from the sterling side of the equation -- it's about the dollar, it's about the poll," said Neil Mellor, a London-based currency strategist at Bank of New York Mellon Corp. Doubts over Clinton's prospects have taken "the wind out of the sails" of dollar bulls, he said.
For the latest on the U.S. presidential election, click here.
Sterling's 0.5 percent surge to $1.2306 as of 4:35 p.m. in London barely dented its 17 percent slide since the June 23 vote to quit the EU. The pound extended the day's gains and touched the highest since Oct. 11 after a poll showed the two main contenders for the White House were tied with less than a week to go before the election.
A measure of anticipated price swings encompassing the U.S. vote jumped. Implied one-week pound volatility climbed to 14.7 percent, the highest since July 29 and up from 11.6 percent on Tuesday, data compiled by Bloomberg show.
For the U.K. currency to move on politics rather than the economy is nothing new. Sterling has shrugged off recent data that showed the economy is holding up, and reacted instead to Brexit headlines and comments from lawmakers and politicians. It dropped 5.6 percent in October, the biggest monthly slide since the referendum itself, amid speculation the government will prioritize immigration controls over free access to the EU single market.
Before it's here, it's on the Bloomberg Terminal.
LEARN MORE