China's Central Bank Has New Tools to Cool Frothy Money Markets
Bloomberg News
With policy in flux, money markets signal shift to manage risk

PBOC may not want to tap brakes so hard that growth is dented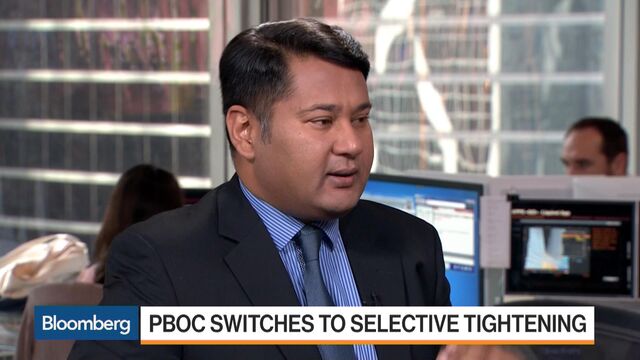 While you wait for the next interest-rate increase in the world's largest economy, policy has quietly tightened in the second-biggest: China.
The People's Bank of China has allowed a steady increase in money market rates in recent weeks to squeeze leverage in the murky shadow banking realm. A side benefit: higher short-term rates cushion a weakening yuan, which is under pressure as capital flows out and the dollar strengthens on expectations the Federal Reserve will raise interest rates by year-end.
China's benchmark one-year lending and deposit rates have been on hold for more than a year, giving the appearance of a neutral footing. But with interest-rate policy midway through a multi-year makeover, the old benchmarks may not be where the action is. A majority of economists in a recent Bloomberg survey estimate the next broad policy move will come via new channels, such as money market rates.
"They've started to tighten selectively," said Raymond Yeung, chief greater China economist at Australia & New Zealand Banking Group Ltd. in Hong Kong. "They don't want to change the cost of funding with the broad policy rate, but selectively if they see excess liquidity in the money market or bond market they may mop up some of the excess to prevent bubbles."
There's even been some signaling from the opaque PBOC on its intention. China's short-term goal is to bring down leverage ratio growth, Deputy Governor Yi Gang said in early September. The central bank didn't respond to a faxed request for comment Wednesday.
The PBOC started using its influence through reverse-repurchase operations in August to nudge up funding costs in the financial system. Here's how the short end of the yield curve has responded:

Markets show investors have started to price in much less aggressive policy easing from the PBOC, and the policy tone is likely to be "less dovish," Zhou Hao, economist at Commerzbank AG in Singapore, wrote in a note Monday. He said China's politburo expressing concern last week over asset bubbles and financial risk indicates policy easing will be less likely in the months ahead.
One reason the PBOC may feel it can switch gears is because past stimulus has done the job. China has posted three straight quarters of 6.7 percent growth, two key factory gauges rose to the highest since July 2014, producer prices snapped a four-year deflation streak and profits at industrial corporations are rising again. Economists are raising growth forecasts.
"Recovering economic fundamentals are paving the way for such a tightening bias," said Wang Yifeng, a research director at China Minsheng Bank in Beijing. "Liquidity tightening is more likely than loosening this year, and the turning point is around the corner."
With the deflationary fog lifted for now, real borrowing costs have declined for China's manufacturers. That makes it easier for the central bank and other authorities to pursue policies aimed at reining in excessive leverage.
And top of the list is putting a lid on a leveraged bond rally and the growth in wealth management products. The PBOC is conducting a trial monitoring of banks' WMPs under its macro-prudential assessment system, people familiar with the matter said last month. That helps defuse financial system risk as banks would have to slow down off balance sheet credit expansion funded with trillions of dollars raised from wealth management products.
For a story about China's quest to rein in credit, click here
Meanwhile, big city property prices are still soaring even after cities from Beijing to Suzhou announced curbs including raising down payment requirements to ruling some buyers ineligible. The PBOC wants to cool the sector.
China has been retooling its monetary policy framework to focus less on the old benchmark deposit and lending rates and take a more market-based approach. The PBOC last year signaled the use of short-term repurchase agreements and the Standing Lending Facility (SLF) to guide markets, with the Medium-Term Lending Facility (MLF) and Pledged Supplementary Lending (PSL) rates guiding and stabilizing mid- and long-term market rates.
Policy makers probably will rely more on those new instruments to guide longer-term rates because pushing easy money from the short end to the long end is better for growth, said Shen Jianguang, chief Asia economist at Mizuho Securities Asia Ltd. in Hong Kong.
"They can be more certain this money will flow to the real economy," he said. "They can't hike interest rates because that would be too strong of a signal, but they want to reduce liquidity in the short end and allow more in the long end through the new instruments."
That's giving commercial banks less incentive to borrow to make speculative bets. Transactions of overnight repurchase agreements have plunged since the central bank started to use longer-term reverse repos with higher interest rates to inject liquidity.

"The PBOC wants to bring down leverage and channel the liquidity into the real economy," said Ming Ming, head of fixed-income research at Citic Securities in Beijing who previously worked in the central bank's monetary policy division. "Despite seasonal fluctuations in the money market, the overall monetary policy is neutral with a tightening bias."
— With assistance by Yinan Zhao, Heng Xie, Zheng Wu, and Helen Sun
Before it's here, it's on the Bloomberg Terminal.
LEARN MORE