Oil Drops to Five-Week Low Amid Signs of Expanding Global Glut
by
December North Sea oil flow set to rise to four-year high

U.S. crude supplies rise record 14.4 million barrels: EIA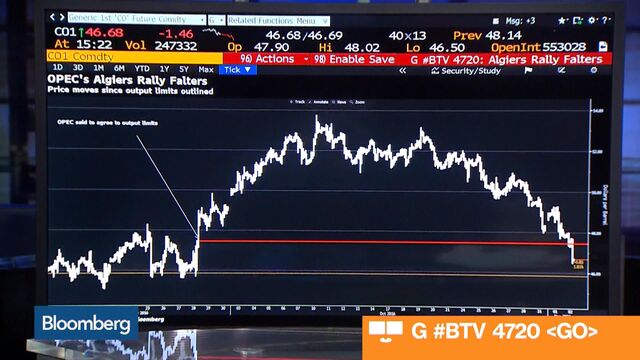 Oil dropped to the lowest since September as a global supply glut appears to be expanding.
West Texas Intermediate fell 1.5 percent for a fifth day of losses. North Sea producers in December will ship the most oil in more than four years, data compiled by Bloomberg show. Prices tumbled yesterday after the U.S. Energy Information Administration said stockpiles rose by a record 14.4 million barrels last week. OPEC members who are claiming exemption from an agreement to limit supplies helped boost the group's output to an all-time high last month.

"If you're a bull you have to be disappointed," said Kyle Cooper, director of research with IAF Advisors in Houston. "The market ignored bullish inventory reports in recent weeks and then collapsed after yesterday's bearish data. Dissension is growing in OPEC and there's a growing suspicion that nothing worthwhile will come from the upcoming meeting."
Oil has retreated from near $50 a barrel, triggered by the failure of the Organization of Petroleum Exporting Countries to agree on country quotas last week as part of a deal to limit output. While Goldman Sachs Group Inc. sees little probability of an agreement at OPEC's Nov. 30 meeting, Bank of America Corp. is confident of an accord. OPEC's "jawboning" is contributing to instability in the market, according to Barclays Plc.
WTI for December delivery dropped 68 cents to settle at $44.66 a barrel on the New York Mercantile Exchange. It's the lowest close since Sept. 23. Total volume traded was about 16 percent below the 100-day average.
Brent for January settlement declined 51 cents, or 1.1 percent, to $46.35 a barrel on the London-based ICE Futures Europe exchange. It's the lowest close since Sept. 27. The global benchmark crude ended the session at a $1.10 premium to January WTI.
Next Target
Oil in New York is trading below the 50-day and 100-day moving averages this week for the first time since September. The 200-day moving average stands at $43.12.
"The trend is lower and our next target should be the 200-day moving average," said Bob Yawger, director of the futures division at Mizuho Securities USA Inc. in New York. "This thing could easily come apart."

A measure of oil volatility climbed to the highest level in more than a month as investors in broader financial markets stay cautious amid a tightening race in the U.S. presidential election.
Shipments of North Sea grades will increase 10 percent month-on-month to about 2.16 million barrels a day, according to Bloomberg data. If all the cargoes load as planned it would mark the most crude oil shipments from the region since May 2012. The increase just from September, when there was field maintenance, would be almost 360,000 barrels a day.
U.S. crude supplies increased last week as imports surged the most in almost 20 years, Wednesday's EIA report showed. Crude output rose for a third week.
OPEC Production
OPEC pumped a record 34.02 million barrels a day in October, according to a Bloomberg News survey of analysts, oil companies and ship-tracking data. The gain was led by Libya, Nigeria and Iran, which are exempt from an OPEC deal to cut supply and pumped an additional 400,000 barrels a day in October. Iraq is also demanding an exemption.
"OPEC will probably miss expectations, which are already pretty low," said Michael D. Cohen, the head of energy commodities research at Barclays Capital in New York, "We could continue to see prices move lower in the short term as a result. The real problem is that Iran, Nigeria and Libya are increasing production, and I don't see the Saudis doing more than a cut of 500,000 barrels a day."
Gasoline extended losses after Colonial Pipeline Co. said it began excavation and removal of fuel from shut link on Wednesday night with "substantial" progress being made. Colonial has said it may resume service on its gasoline line at noon local time Saturday after an explosion and fire in Alabama sent futures surging Tuesday.
December gasoline futures dropped 1.6 percent to $1.4245 a gallon, the lowest close since Sept. 27. Diesel for December delivery declined 0.6 percent to settle at $1.4582, also the lowest close since Sept. 27.
Oil-market news:
State-owned Saudi Arabian Oil Co., known as Saudi Aramco, increased its official pricing for Arab Light crude to Asia by 90 cents a barrel, to a premium of 45 cents over the regional benchmark, according to people familiar with the matter
Royal Dutch Shell Plc predicts demand for oil could peak in as little as five years, a rare statement in an industry that commonly forecasts decades of growth.
Before it's here, it's on the Bloomberg Terminal.
LEARN MORE