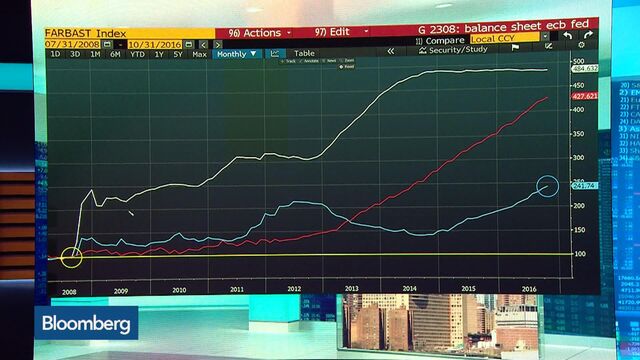 Every meeting is on the table for a Federal Reserve rate increase, policy makers insist. Markets aren't buying it this month. 

Traders see just a 15 percent chance that U.S. central bankers will raise their main interest rate in November, fed funds futures pricing suggests. A number of factors, from good-but-not-excellent jobs data to growing political risk, seem to have weighed on market participants' minds and led them to discount an increase this month. 

Here's a walk through the developments that affected November's chances, in traders' eyes. 
Sept. 27: Fischer speaks in Washington
Fed Vice Chairman Stanley Fischer spoke at Howard University in Washington, saying that wages are starting to rise, and that the Fed is "beginning to see the fruits of a higher-pressure labor market."
Sept. 28: Yellen speaks before House panel
Fed Chair Janet Yellen told the House Financial Services Committee she's been "pleasantly surprised" that the unemployment rate hasn't fallen further, because it means people are being drawn back into the labor force. She added that the Fed isn't seeing meaningful upward pressure on inflation. 
Oct. 3: Manufacturing index rebounds
Odds of an increase moved up substantially in early October. At the start of the month, the Institute for Supply Management's factory index bounced back from a weak prior reading, exceeding economists' projections and assuaging fears of a manufacturing slowdown. 
Oct. 5: Service index rebounds
ISM's services index, which had pulled back in August, also showed a strong rebound, reaching its highest value since October 2015. 
Oct. 7: Payrolls, Fischer and Clinton emails
Chances for a rate increase plummeted on Oct. 7, which could have had several causes. First, payrolls data showed that employers hired 156,000 people on net in September, a decent but below-forecast number. Markets may have figured that such a moderate gain wouldn't create a sense of urgency at the Fed. 

Second, Fischer spoke in Washington, saying that job creation continues at a pace "fully consistent" with lower unemployment, but contrasts with a weak overall economic expansion. 

Finally, WikiLeaks published a batch of e-mails it said were from Democratic presidential candidate Hillary Clinton and her campaign, including excerpts from her Wall Street speeches. Brookings Institution research has suggested that markets fear a win by Republican Donald Trump in the Nov. 8 election. It's possible that traders view anything that helps Trump's chances as a risk event that could stay the Fed's hand.  

"There is this uncertainty in the market about what Donald Trump is up to,'' said Thomas Costerg, senior U.S. economist at Standard Chartered Bank in New York, said on Tuesday. "What we've learned this year is that the Fed is very sensitive to any risk event, and at this stage, the market is probably pricing in Clinton." 
Oct. 28: FBI investigation announced
Chances of a rate increase took a final hit Friday, when FBI Director James Comey told lawmakers that he was reviving an inquiry into Clinton's private e-mails as secretary of state. As previously noted, Fed watchers may see things that are bad for Clinton's chances as potentially tumultuous for markets. 




Before it's here, it's on the Bloomberg Terminal.
LEARN MORE