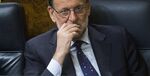 Mariano Rajoy has no time to lose.
After ten months of political deadlock and two inconclusive elections, Spain's old and new prime minister faces economic challenges from reducing one of the highest unemployment rates in the region to developing a strategy for bailed-out banks. That's if he's able to approve a budget in a hostile parliament.
"This is key and needs to be done within the next few weeks,"  said Antonio Barroso, a London-based political analyst at Teneo Intelligence. "With such a fragmented Congress, lots of negotiations between parties will be needed this legislature."

While joblessness has fallen to the lowest level in more than six years amid annual economic growth of more than 3 percent, 4.3 million people remain unemployed, and close to 2 million of them haven't worked in more than two years. Rajoy will have to figure out how to improve the public employment and training system, which has been criticized for relying too much on unions instead of recruitment agencies, and providing subsidies regardless of results. 

With an aging population seen shrinking steadily over the next 50 years, securing the pension system is next on the government's to-do list. Rajoy has drained the nation's reserve fund after inheriting a record pot. The 61-year old is betting that job creation can help prop up the fund and has ruled out creating a special tax to pay for pensions, but the independent watchdog Airef is less optimistic and expects it to run out by 2018.

Banks are also back on the radar. Four years after a real estate crash forced the government to seek a 41 billion-euro bailout from European authorities to rescue some of its troubled lenders, only a fraction of that money has been repaid. Spain's bank rescue fund is analyzing options for its stake in Bankia SA, the biggest recipient of state aid. Both the European Central Bank and the European Commission urged the Spanish government last week to complete the restructuring and privatization of state-owned banks to strengthen the stability of the financial sector.


Before it's here, it's on the Bloomberg Terminal.
LEARN MORE