markets
Mainstream Renewable Forms Investing Arm for Emerging Markets
By
Irish developer targets growing economies around the globe

Mainstream Renewable Capital to be led by James P. McGinnis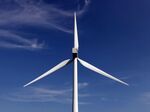 Mainstream Renewable Power Ltd., an Irish clean-energy developer that targets emerging markets, is forming an investment arm to raise capital for wind and solar farms around the globe.
The initiative, Mainstream Renewable Capital, plans to raise more than $840 million in the next 18 months to build at least 700 megawatts in South Africa, Chile, Vietnam and elsewhere, Chief Executive Officer Eddie O'Connor said Wednesday.
Those developments are among 9 gigawatts of wind and solar farms that Mainstream Renewable Power plans to build over the next decade. The company, founded in 2008, partners with governments, utilities and others to build large-scale clean energy projects in fast-growing markets. Its capital arm will target institutional investors, offering opportunities to back projects during early-stage development, construction or commercial operation.
"We have a pipeline of nearly 9,000 megawatts," O'Connor said in an interview at Bloomberg's headquarters in New York. "We have massive opportunities."
Investment Options
The company has tapped James P. McGinnis, a veteran energy banker who formerly worked at Goldman Sachs Group Inc. and Morgan Stanley, to lead the effort. Mainstream Renewable Capital will offer a variety of investment options, providing flexibility to back individual projects or broader portfolios at various development stages, across several regions.
Mainstream Renewable Power, which has offices on five continents, has built about 850 megawatts of wind and solar projects to date, typically selling developments after they are complete. In September, the company announced a partnership with General Electric Co. to build $1.5 billion of new wind power in Vietnam. And in July, Mainstream Renewable Power Ltd. received a $10 million investment from The Rockefeller Brothers Fund to expand renewable energy in Africa.
Before it's here, it's on the Bloomberg Terminal.
LEARN MORE