Greens Leader Says Germany Shouldn't Block Chinese Investors
By and
Greens chief calls blocking foreign investment wrong approach

Oezdemir says Germany should focus more on opening up China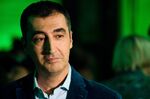 A German opposition leader criticized a government proposal that would make it easier to block investment in the country from Chinese companies, saying Germany is setting a bad example for free trade.
Cem Oezdemir, the co-chairman of the Green party, said the government should focus more on pushing for a level playing field in China than creating hurdles for Chinese investors in Europe's largest economy. The German Economy Ministry is pushing for tighter control of foreign investment in the European Union and has announced in recent weeks more extensive reviews of Chinese purchases of German companies.
"I don't think that's the right way to respond," Oezdemir said in an interview in Berlin with Bloomberg Television. "China has to open. We shouldn't close."
The protectionist measures are being championed by Economy Minister Sigmar Gabriel -- Chancellor Angela Merkel's deputy and head of the Social Democratic Party -- who has had a frosty reception while visiting China this week. Merkel has not said whether she backs his proposal, which calls for EU action to give national governments more power to block or impose conditions on shareholdings by non-EU companies. 
The government in Beijing places restrictions on and limits foreign ownership in industries including automotive, aviation and technology.
The Chinese government called on Germany to offer equal treatment for Chinese investors. Commerce Ministry spokesman Shen Danyang said on Wednesday that Germany must be "rational and objective" with foreign purchases in the country.
"Chinese investment has created thousands of jobs and taxes in Germany over the past few years," Shen said at a press conference in Beijing.
The Chinese have made their displeasure known during Gabriel's trip this week to the country, where the minister of commerce, Gao Hucheng, pulled out of a joint appearance with his German counterpart, according to Deutsche Presse-Agentur.
Gabriel last month opened reviews of takeover offers from Chinese investors for semiconductor supplier Aixtron SE and the general lamps division of Osram Licht AG. Gabriel earlier this year also voiced opposition to a purchase of German robot maker Kuka AG by China's Midea Group Co. In total, Chinese companies have announced or completed acquisitions in Germany valued at a record 11.3 billion euros ($12.5 billion) this year, almost eight times the level of 2015, according to data compiled by Bloomberg.
Oezdemir's Greens, alongside the anti-capitalist Left Party, are the only opposition in Germany's lower house of parliament.
"If we want China to play fair, we should also play fair and should not adopt the Chinese model," Oezdemir said.
— With assistance by Miao Han
Before it's here, it's on the Bloomberg Terminal.
LEARN MORE