business
Farage Going Made UKIP Pressure Cooker Explode, Donor Says
By and
Banks says he's 'struggling' with the leadership candidates

Says party has achieved its major goal in politics: Brexit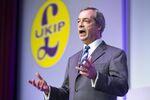 Nigel Farage's departure as U.K. Independence Party leader has plunged the party into disarray, causing it to lose its "mojo," according to its most prominent donor, Arron Banks, who indicated he isn't backing any of the current candidates to take up the mantle.
"We're struggling at the moment, there's no point in denying it," Banks said on Wednesday in a BBC Radio interview. "Nigel was probably a dominant politician for the last 20 or 30 years and losing him has caused the pressure cooker to explode."
UKIP is mired in a second leadership contest since the party helped spearhead victory in Britain's June 23 referendum on leaving the European Union. The vote for Brexit has left the anti-EU party struggling for a raison d'etre, putting its future in doubt amid infighting.
Attempts to allay the concerns of the party faithful were on display in the first leadership debate, which took place in London on Tuesday evening. Deputy leader Paul Nuttall, the favorite with bookmakers, issued a plea for unity, saying UKIP had begun to "fall to pieces" since the Brexit vote.
"I'm standing in this election as the unity candidate, the candidate who wants to let bygones be bygones, the one who says that on Nov. 28, when a new leader is elected, we must put everything into a box called the past," he said.
The overtures were welcomed by many UKIP members sitting in the packed hall a few minutes' walk from the Houses of Parliament.
'Differentiate Ourselves'
"The sort of party I'd vote for is one that will keep on the politically incorrect issues and talk about things the other parties won't talk about -- that's the only way to differentiate ourselves," said Londoner Simon Hughes, 31, who's been a party member since 2012. "Paul was on form tonight, I think he'll win it."
Nuttall was joined at the debate by the other three candidates in the contest -- Suzanne Evans, who wrote the party's 2015 election manifesto; Peter Whittle, a member of the London Assembly; and John Rees-Evans.
Since Farage stepped down, UKIP has already had one leadership election, choosing Diane James to succeed him. She quit 18 days later, and the favorite to follow her, Steven Woolfe, then left the party after being involved in a fracas at the European Parliament that left him hospitalized. Banks had backed both and most recently threw his support behind a former Farage aide, Raheem Kassam, who pulled out on Monday, just days after formally launching his candidacy.
'Credible Leader'

Asked about giving more money to the party, Banks, a businessman who announced a 1 million-pound ($1.2 million) donation in 2014, said that "at the moment we have to see if it manages to stabilize itself and elect a credible leader."
"We've enjoyed giving the establishment a damn good thrashing: I don't know if it's over for UKIP," he said. "It's certainly achieved its main goal in politics, which was to get the referendum and win it."
Banks also suggested Farage may return to lead UKIP in the future, and that he wished its sole member of Parliament, Douglas Carswell, would return to the Conservative Party, from which he defected in 2014. Disarray in the main Labour opposition gives UKIP the chance to keep its relevance, he said.
"UKIP has got a marvelous opportunity with the Labour Party split almost in two," Banks said. "It's got a fabulous opportunity up north and I think it's got to get its mojo back."
(
Updates with leadership debate starting in fourth paragraph.
)
Before it's here, it's on the Bloomberg Terminal.
LEARN MORE