Ex-Brevan Howard's Melkman Says Top Bet is Yields Steepening
By and
Japanese stocks to outperform European equities, he says

Venezuela, Brazil unlikely to be replay of Argentina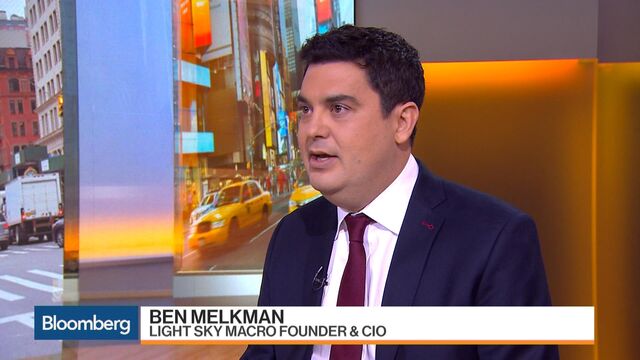 Ben Melkman, the former Brevan Howard Asset Management partner who's starting his own investment firm, said it's time to place bets that reflect a shift from monetary to fiscal stimulus in the U.S., U.K. and Japan.
Melkman's top trade is a so-called steepener in the Gilt market, a bet that accelerating inflation coupled with an increase in U.K. government spending will drive up yields on long-dated bonds, he told Bloomberg Television on Wednesday. He expects a similar steepening across U.S. Treasury yields and said Japanese equities will outperform European stocks.
Melkman is jumping into the hedge fund industry at a time of turmoil as investors seeking lower fees pull money from firms. His Light Sky Macro fund will focus on macroeconomic trends and take concentrated, long-term positions, Bloomberg reported in June. Melkman is seeking $400 million at the outset and plans to cap assets at $1 billion during the first year.
The manager helped oversee some assets in Brevan Howard's main fund and was the senior trader for the company's dedicated Argentina fund. It had more than $500 million under management before liquidating this year after the Argentina creditor dispute was resolved. The fund had produced net returns of 18 percent since opening to outside investors in January 2015.
Melkman said that investors looking for a similar distressed environment to replay in Venezuela or Brazil could be disappointed. While Brazilian markets are likely to rally in the near term, he said he doesn't believe that the ouster of former president Dilma Rousseff presents real institutional change in the country's government.
In Venezuela, he said, investor optimism has gotten ahead of itself. "The real trade in Venezuela is to wait for the messy default and then buy real distress in the default environment," he said.
Before it's here, it's on the Bloomberg Terminal.
LEARN MORE