Egypt Extends Delay on Capital Gains Tax Amid Currency Crunch
By and
Planned 10% levy put back three more years to lure investments

Tax was first delayed by two years in 2015, disappointing IMF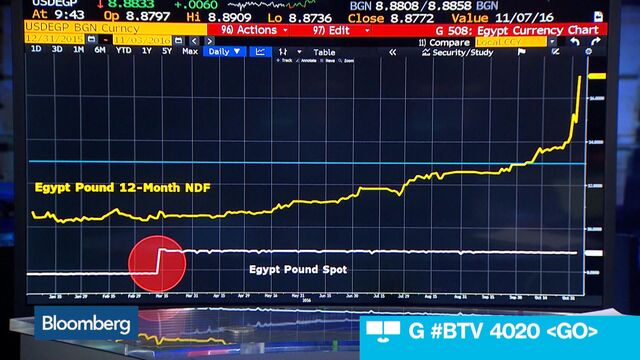 Egypt delayed the introduction of a capital gains tax on equities for three more years, as it tries to attract investors to help ease a hard currency crunch that's hurting growth. Stocks rose.
The postponement was included in a group of tax exemptions decreed by the Supreme Investment Council, the Presidency said in an e-mailed statement late on Tuesday. They include a 5-year income tax relief for new agricultural and manufacturing investments in Upper Egypt, which abuts the Nile, as well as discounts on land prices in new urban centers planned by the government.
President Abdel-Fattah El-Sisi's government is trying to strike a balance between trying to revive foreign investor interest and plugging a budget deficit that reached 12.2 percent of gross domestic product last fiscal year. It introduced value-added taxation last month and is also expected to cut fuel subsidies and devalue the currency as it seeks a $12 billion loan from the International Monetary Fund.
"The freeze on the capital gains tax should have a positive impact on the stock exchange," especially with the government expected to begin a program of public listings for state assets next year,"said Reham El Desoky, senior economist at Dubai-based Arqaam Capital. The measures will also address investment impediments related to land availability and disputes, she said.
Egypt's EGX30 benchmark index for stocks gained 1.3 percent at 11:12 a.m. in Cairo.
The capital gains tax was first delayed -- for two years -- in 2015. The decision drew criticism from the IMF, which said Egypt's rich would be paying less to trim the budget deficit. The government said at the time it was protecting the competitiveness of the country's financial markets.
Also on Tuesday, the government issued a decree raising the price of subsidized sugar for ration-card holders by 40 percent, the state-run MENA news agency reported. Egypt has been facing a shortage of sugar for weeks as a currency crunch and rising global prices curbed imports.
Before it's here, it's on the Bloomberg Terminal.
LEARN MORE