Drops Worsen for Europe Stocks in Longest Losing Run Since '14
by
Cyclicals suffer as banks, carmakers, oil producers slump

Italy's FTSE MIB drops the most among western-European markets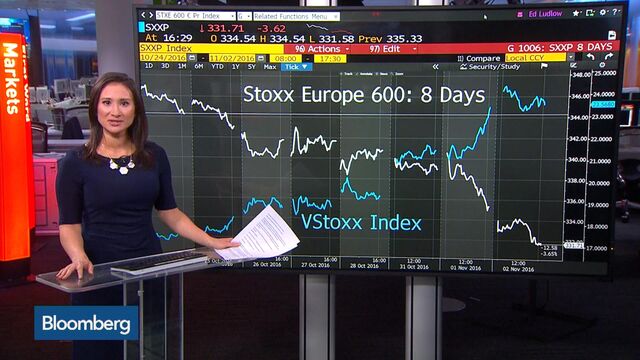 European shares fell for an eighth day, following a global selloff amid growing nervousness as polls indicated a tightening race between Hillary Clinton and Donald Trump for the U.S. presidency.
The Stoxx Europe 600 Index sank to its lowest level in almost four months, led by plunges in banks, automakers and energy producers amid a flight to safety. The U.S. presidential election is increasing anxiety in a market that's already suffering from skepticism about the economic recovery and concern about the path of central-bank stimulus. A gauge tracking volatility expectations for euro-area shares rose for an eighth day, its longest streak since 2011.
"From a European perspective, people are afraid that a Trump presidency may mean even more protectionism and for a region that's dependent on exports and global trade, that's something we don't like," said Michael Woischneck, who manages about $180 million as a senior equities manager at Lampe Asset Management in Dusseldorf, Germany. "This nervousness is likely short term. Once that and the Fed meeting is out of the way the market should start to stabilize."
The Stoxx 600 fell 1.1 percent, taking its eight-day plunge to 3.7 percent. Banks, which led the rally in the aftermath of the U.K. secession vote and hit their highest prices since May last week, dropped for a fourth day, plunging the most since in three months as Italian firms sank. Automakers posted their biggest retreat since August as the euro strengthened, while reports on Tuesday showed slowing U.S. car sales. Energy producers dropped with oil.
The U.S. is the biggest trade partner for the European Union outside of the region's countries, making the relationship between the two key. Since the Federal Bureau of Investigation restarted an examination into e-mails last week, Clinton saw her odds of winning the Nov. 8 ballot slip. An ABC News/Washington Post poll showed Trump with 46 percent support to Clinton's 45 percent, while a Bloomberg survey signaled the Democratic nominee held a slim advantage with independent voters. Trump has vowed to re-negotiate international trade deals.
The election comes as the Federal Reserve considers raising interest rates amid rising inflation. While traders aren't betting on a hike after the European close today, they're pricing in a 69 percent chance it will act next month. A flight to safety amid the global selloff sent bonds and oil rising. In western Europe, almost all equity markets fell, with Italy's FTSE MIB Index slumping 2.5 percent, the most since Aug. 2.
With mixed euro-area economic data and concerns over the efficacy of European Central Bank stimulus, analysts are predicting a 4.1 percent contraction in net income for Stoxx 600 members this year. That's even as companies that have reported so far this season have mostly beaten profit estimates. With a valuation of about 14 times estimated earnings, Stoxx 600 firms are 13 percent cheaper than those on the S&P 500 Index.
Among companies moving on results and updates today:
A.P. Moller-Maersk A/S tumbled 7.2 percent after reporting a slump in earnings as the shipping industry suffers from overcapacity.
Danske Bank A/S declined 3.5 percent after Maersk sold its remaining stake in Denmark's biggest lender.
Hugo Boss AG climbed 4.2 percent after reporting profit that beat estimates thanks to cost cuts and growth in China. 
H. Lundbeck A/S advanced 5.3 percent after the Danish drugmaker raised its annual revenue forecast.
Next Plc gained 3.5 percent as better-than-expected cost savings helped the retailer keep its annual profit forecast virtually unchanged.
Before it's here, it's on the Bloomberg Terminal.
LEARN MORE