Carney May Have Bigger U.K. Inflation Worries Than the Pound
By
Brexit supply shock could put a squeeze on the economy

Price growth is at 1% and accelerating toward BOE target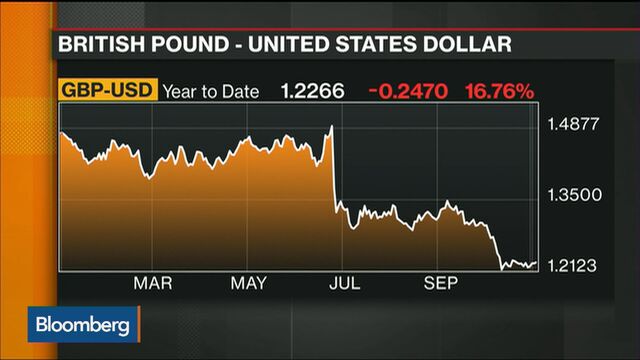 Mark Carney's inflation problem goes beyond surging import costs.
The falling pound is already fueling inflation, and Brexit could compound the impact if it makes foreign workers scarcer, hits investment and weighs on productivity. Carney, who just extended his time as Bank of England governor by a year to help steer Britain through the transition, has warned of the dangers to the supply side of the economy.
Unlike inflation driven by oil prices or the currency, home-grown triggers could prove more systemic and less likely to wash out after a period. The central bank has previously indicated a willingness to look through a short-term spike, but economists say that could be much harder to do if leaving the European Union reduces the openness of the economy.

"From a policy perspective, weaker growth in the supply potential of an economy provides less room for expansion without sparking excess inflation," said Dan Hanson, an economist at Bloomberg Intelligence in London. It "significantly weakens the case for looking beyond above-target inflation in the short term."
The U.K. is facing a specific price threat because of the pound's slump, even as inflation remains low globally. While British unit labor costs are subdued for now and consumer-price inflation is just half the BOE's 2 percent target, it's forecast to average 2.3 percent next year. Some see it even higher, with the National Institute of Economic and Social Research forecasting a rate of 4 percent by the end of 2017.
World's Worst
The central bank announces its next policy decision on Thursday and is expected to keep its benchmark rate at a record-low 0.25 percent. It will also probably raise its growth and inflation forecasts, economists say.
Sterling's latest leg down -- its 6 percent drop in October made it the world's worst-performing currency -- coincided with speculation that the government is headed for a hard Brexit, where unrestricted access to the single market is sacrificed for tougher immigration.
The pound's move "appears to be related to an adjustment in market perceptions to that balance of supply and demand," Carney told the House of Lords Economic Affairs Committee on Oct. 25.
According to Erik Nielsen, global chief economist at Unicredit in London, the economy may have less spare capacity than previously thought, leaving the BOE "less scope to look through higher currency-induced inflation."
Carney's remarks echoed his warnings before the June referendum that a pound selloff could reflect investor concerns about supply. British workers already produce less per hour than the Group of Seven average, and the economy could face a further loss of growth potential if Brexit restricts migration and prompts companies to scale back investment and innovation. 
Fiscal Policy
That has implications for fiscal policy too, as weaker growth makes it harder to generate the tax revenue needed to erase Britain's deficit. Chancellor of the Exchequer Philip Hammond is almost certain to announce a sharp increase in government borrowing when unveils his new budget plans on Nov. 23.
"The Bank of England is now facing a difficult arbitrage between higher inflation and persistently lower growth," Jean-Michel Six, Standard & Poor's economist said Wednesday. He expects it to "see through the rising inflation and focus on mid-term economic growth prospects," he said.
Carney's most recent comments on the issue were on Oct. 25, when he said there are "limits" to the BOE's willingness to look through an overshoot. The Monetary Policy Committee is forecast to refrain from cutting its record-low benchmark rate on Thursday and investors are starting to price in a hike from May next year.
"One of the major judgments they have to make is to what extent is Brexit a demand shock -- people holding back from spending, particularly corporates -- and to what extent is it also a supply shock through lower investment," Rupert Harrison, chief macro strategist at Blackrock Inc., said on Bloomberg Television on Oct. 17. "The more of a supply shock that it is, the more inflationary it's going to be."
— With assistance by Jill Ward
Before it's here, it's on the Bloomberg Terminal.
LEARN MORE