Bribes, Swag Bag and Cozy Ties Showcased in S. Africa Report
By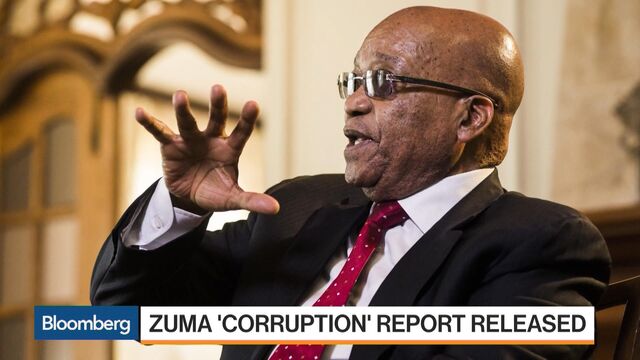 Key findings in the report by South Africa's former Public Protector, Thuli Madonsela, on the links between government officials and the the Gupta family, friends of President Jacob Zuma, include allegations of attempted bribery and frequent contact between the family and key government officials.
$44 Million
Ajay Gupta, one of three Gupta brothers, offered Deputy Finance Minister Mcebisi Jonas 600 million rand ($44 million) to take up the position of finance minister, Jonas said in his interview with Madonsela. Gupta said if he had a bag with him, he could get 600,000 in cash immediately, Jonas said. Jonas told Madonsela that Zuma's son, Duduzane, invited him to a meeting in October last year and they then traveled together in Duduzane's vehicle to the Gupta family residence, which Jonas had never visited before.
At the house, Gupta told Jonas he could be made finance minister and while the family has made a lot of money from the state, the Treasury was a stumbling block for their business ambitions and that Jonas would have to remove the Treasury's Director-General Lungisa Fuzile and other members of the executive management.
Jonas rejected the offer and later went public with a statement. He didn't immediately respond to a call to his mobile phone seeking comment on Wednesday.
Gert van der Merwe, a lawyer for the Gupta family's Oakbay Investments, denied in an e-mailed statement that Ajay Gupta ever met with Jonas.
58 Phone Calls
Ajay Gupta told Madonsela that Eskom Holding SOC Ltd. Chief Executive Officer Brian Molefe is a "very good friend" and often visits the family's home in Saxonwold, a suburb in Johannesburg. Phone records obtained by Madonsela show Molefe called Gupta 44 times between Aug. 2 last year and March 22. Gupta phoned Molefe 14 times in the period. Molefe's mobile-phone records also show that he was in the vicinity of the Guptas household 19 times in the three months to November last year.
When contacted for comment, Molefe said he was studying Madonsela's report and getting legal advice. Oakbay's Van der Merwe said the evidence in the report is "riddled with errors and is subject to rebuttal."
Frequent Visits
Cooperative Governance and Traditional Affairs Minister David van Rooyen was in Saxonwold on Dec. 8, the day before Zuma roiled markets by appointing the then little-known lawmaker as finance minister, according to phone records obtained by Madonsela. The records also show Van Rooyen frequently visited Saxonwold between October last year and January this year. In his interview with Madonsela, Gupta denied that Van Rooyen visits his house.
Van Rooyen didn't immediately respond to a call to his mobile phone seeking comment.
— With assistance by Paul Vecchiatto, Loni Prinsloo, and Sam Mkokeli
Before it's here, it's on the Bloomberg Terminal.
LEARN MORE