Brexit Bulletin: The View From Berlin
Merkel's government isn't getting worried about assurances given to Nissan.
by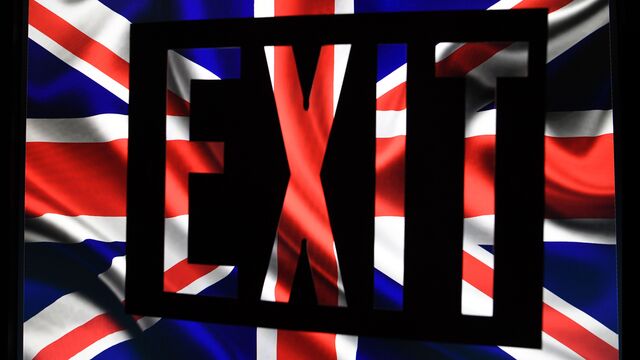 Sign up to receive the Brexit Bulletin in your inbox, and follow @Brexit on Twitter.
German Chancellor Angela Merkel's government is relaxed about the assurances Britain gave to Nissan to keep the carmaker investing in the U.K.
Officials in Germany view attempts to woo the Japanese company as inevitable and understandable given the need for Prime Minister Theresa May to protect the economy against the likely fallout of leaving the EU, Bloomberg's Arne Delfs, Rainer Buergin and Birgit Jennen report today.
Pledges made now won't necessarily reflect what happens once Britain has left, said a German official, who asked not to be named because Merkel's government hasn't commented publicly on the matter.
Michael Fuchs, deputy leader of Merkel's Christian Democrat-led parliamentary bloc, said in an interview:
"That the U.K. government is trying to make economic or fiscal concessions to keep companies from leaving the country reflects the British fear of the consequences of Brexit... We will not engage in a subsidy spiral here, but will focus our energy on negotiating a clear agreement between the EU and the U.K."
Another official said Merkel's impression is that May's government has no clear concept of what it wants out of the upcoming Brexit talks.
Separetly, the German government's council of economic advisers called for "constructive negotiations" to keep Britain in the EU despite the Brexit referendum.
Carney May Never Change Rates Again
Mark Carney may have this week extended his term as Bank of England Governor until June 2019, but that doesn't guarantee he'll ever shift interest rates again.
Since taking office in July 2013 he has never raised the U.K.'s benchmark rate, and cut it just once, to 0.25 percent in August. The National Institute of Economic and Social Research predicts today that Carney will keep it on hold until he steps down after Brexit has been delivered. The think tank says the next rate change is likely to be an increase – in the third quarter of 2019.
Still, it predicts inflation will rise towards 4 percent next year, twice the central bank's target. 
Bloomberg's John Ainger has more today on how Brexit will force up inflation if it makes foreign workers scarcer, hits investment and weighs on productivity. 

The Daily Telegraph also reports that politicians are hopeful Carney could be persuaded to stay beyond 2019 if the Brexit talks run into trouble.
All Eyes on the Court
A panel of senior judges will rule Thursday morning on a challenge to Prime Minister Theresa May's plan to begin Britain's exit from the European Union, a lawyer in the case said.
The ruling will be issued at London's high court at 10 a.m., according to the lawyer, who asked not to be identified because the court hasn't disclosed the time yet. The losing side will likely begin an appeal to be heard at the Supreme Court in December.
May wants control over how and when the country leaves Europe, but the challengers believe she should put the matter to a Parliamentary vote.
Banking Optimism
British bankers don't think Brexit means the imminent demise of the City of London as a global financial hub.
About 72 percent of 80 finance executives surveyed by consulting firm Synechron reckon London will retain its status as Europe's financial powerhouse for at least five years. While 78 percent said leaving the EU will hurt Britain's financial markets, 82 percent said the split will also hurt the continent.
Meanwhile, Bank of Tokyo-Mitsubishi is to upgrade its Amsterdam unit from which to manage European operations, although it said it had been working on the switch for several years and that it wasn't related to Brexit.
Former Chancellor of the Exchequer Alistair Darling told Bloomberg TV today that May shouldn't "segregate bits of the British economy" in her Brexit deal.
On the Markets
Some good news for banks: Their shares are on the up, months after the Brexit vote spurred their worst slump since 2009.
A gauge tracking lenders in the FTSE 350 Index has rallied twice as much as the broader market since a June low following the referendum, according to Aleksandra Gjorgievska of Bloomberg. Gains of about 40 percent or more in HSBC and Barclays, which get more than half their revenue outside the U.K., have helped lift bank valuations.

Such climbs suggest investors are focusing on the weaker pound and better-than-forecast economic data rather than worries that banks will lose access to the EU market.
Meanwhile, the pound is benefiting from increased political risk, for once. Sterling rose to an almost two-week high versus the dollar after the U.S. currency was hurt by signs Republican Donald Trump is closing the gap in the race for the White House. 
Brexit Bullets
And Finally…
Scientist Stephen Hawking may be able to explain theoretical physics, cosmology and give a brief history of time, but don't expect him to get his head around Brexit.
"I deal with tough mathematical questions every day, but please don't ask me to help with Brexit," Hawking told May when the pair met at an awards ceremony on Monday night.
For more on Brexit follow Bloomberg on Twitter, Facebook and Instagram, and see our full coverage at Bloomberg.com
Before it's here, it's on the Bloomberg Terminal.
LEARN MORE