Anthem Threatens Obamacare Retreat If Results Don't Improve
By
CEO says 'will likely modify our strategy' if still struggling

Third-quarter adjusted earnings fell short of estimates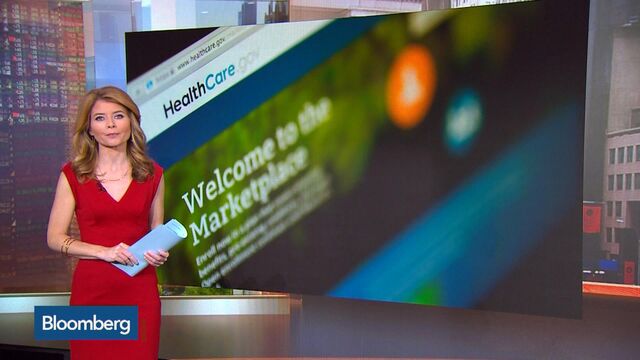 Health insurer Anthem Inc., which has so far stuck with the Obamacare markets as rivals pulled back, said it may retreat in 2018 if its financial results under the program don't improve next year.
Anthem's comments up the stakes for the Obama administration as the enrollment season for 2017 Affordable Care Act plans begins, with consumers already facing fewer choices and higher premiums in many markets.
"If we do not see clear evidence of an improving environment and a path towards sustainability in the marketplace, we will likely modify our strategy in 2018," Anthem Chief Executive Officer Joseph Swedish said on a call Wednesday discussing third-quarter results. "Clearly, 2017 is a critical year as we continue to assess the long-term viability of our exchange footprint."
Anthem expects to post a narrow profit margin next year in exchanges created under the ACA, following losses that Swedish called "disappointing." Profitability will improve thanks to plan changes and premium increases averaging more than 20 percent, but Anthem said it will take more than that to stabilize markets that have so far drawn about half the membership it was planning for. The company called for eliminating a tax on health insurers, as well as changes to regulations that govern how plans are sold and administered.
'Surgical' Assessment
"Both the pricing and regulatory environment need to be improved," Swedish said. He said the company would be "surgical" in assessing where to sell ACA plans for 2018.
Shares advanced 4.9 percent to $123.17 at 11:36 a.m. in New York.
Anthem sells health coverage under the Blue Cross Blue Shield brand in 14 states, and has a big position in the market for plans sold directly to individuals. The Indianapolis-based company said Wednesday that it had 889,000 people signed up under individual Obamacare exchange plans, and a total of about 1.4 million members in individual plans.
Large rivals UnitedHealth Group Inc., Aetna Inc. and Humana Inc. have all retreated from many of the Obamacare exchanges. If Anthem pulls back in 2018, it would leave mostly regional and not-for-profit firms on the markets, along with the Medicaid companies Centene Corp. and Molina Healthcare Inc.
Anthem's struggles "should be an alarm bell to policymakers," said John Gorman, who advises health plans as founder of Gorman Health Group. "They're real trend-setters in the individual market."
Anthem expects the overall market for ACA compliant plans -- both on- and off-exchange --will shrink next year, Chief Financial Officer John Gallina said. The insurer's membership in the individual market will fall as well, he said.
Program Flaws
Molina last week said it may have to limit ACA marketing in some states if the government doesn't fix flaws in a program designed to transfer funds from insurers with healthy customers to those with sick ones. Flaws in the risk transfer program are hurting results in the ACA, the company said.
"The marketplaces are generally performing well," CEO Mario Molina said on a conference call with analysts on Oct. 27. "They only require modification and adjustment, not wholesale change."
Third-Quarter Results
Earlier Wednesday, Anthem reported third-quarter earnings that fell short of estimates as medical spending increased, driven in part by costs in the company's business serving poor people through Medicaid. Profit excluding some items was $2.45 a share, Anthem said in a statement, compared with the $2.47 average of analysts' estimates compiled by Bloomberg.
While the company added more customers in its Medicaid business, costs rose there as well, driven by struggles in Iowa which hurt profitability in the quarter. Anthem said expenses also rose in its individual business, which includes plans sold under Obamacare.
Anthem agreed more than a year ago to buy Cigna Corp. for about $48 billion and is now facing a court battle to win U.S. approval of the deal. The Justice Department sued to block the takeover on antitrust grounds in July, saying the combined firm would control too much of the market for health insurance sold to big employers.