Victoria's Secret CEO Compares Clinton, Trump to Roman Emperors
by
'We have Nero and Caligula arguing,' Wexner tells investors

Richest man in Ohio blames election for distracting shoppers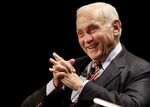 Les Wexner, the Ohio billionaire who runs L Brands and its Victoria's Secret division, used the company's investor day to lash out at presidential candidates Hillary Clinton and Donald Trump, likening them to Roman emperors.
"We have Nero and Caligula arguing about the future of Rome, and like fools we're listening to it," said Wexner, the richest man in Ohio. He didn't specify which candidate was which Roman despot.
Ohio is a critical swing state in the presidential election. No Republican has won the presidency without carrying Ohio and its 18 Electoral College votes, and the last Democrat to lose the state and still win the presidency was John F. Kennedy in 1960. Trump, a Republican, leads Democrat Clinton by 2.5 percentage points in the RealClearPolitics average of recent polls.
Wexner, 79, blamed the election for distracting consumers, an excuse embraced by many retail executives.
"We've got this peculiar election," Wexner said. "On the one hand, you can choose somebody who's absolutely nuts or somebody who's probably very selfish and dishonest."
Wexner has a net worth of $7.4 billion, according to the Bloomberg Billionaires Index. He has donated to many Republican candidates and fundraising committees, including former presidential candidate Jeb Bush.
"I hope somebody wins the election and this isn't the end of the republic," he said.
Before it's here, it's on the Bloomberg Terminal.
LEARN MORE