Valeant Said to Be in Talks for Sale of Salix to Takeda
By and
Drugmaker confirms it's in talks, doesn't say with who

Business could go for as much as $10 billion, WSJ reports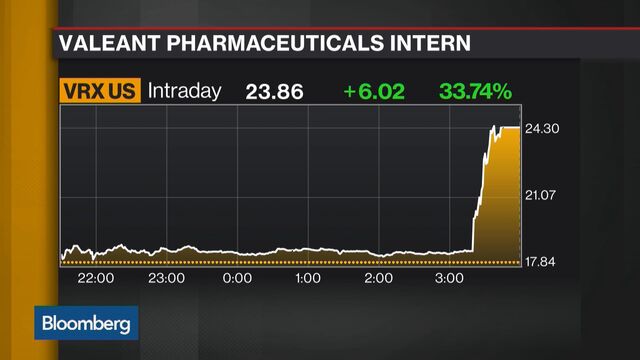 Valeant Pharmaceuticals International Inc. is in talks to sell its Salix gastrointestinal drugs business to Japan's Takeda Pharmaceutical Co., according to a person familiar with the matter.
The unit could go for as much as $10 billion and there is at least one other bidder interested, the Wall Street Journal reported earlier. The deal would include at least $8.5 billion in cash, the Journal said, plus future royalty payments.
Valeant confirmed that it is in discussions, without saying who it is talking with. "We are currently in discussions with third parties for various divestitures including but not limited to Salix. The discussions may or may not lead to a definitive agreement," the Laval, Quebec-based company said in a statement.
Linda Calandra, a spokeswoman for Takeda, said that "while we at Takeda are always evaluating opportunities, we do not speculate on industry rumors."
If a sale is successful, the cash that comes to Valeant could reduce pressure on the debt-laden company and give it some needed breathing room during what has been a brutal year marked by a sliding stock price, legal investigations and political pressure.
Valeant's stock gained 34 percent to $23.86 at the close in New York, the biggest one-day gain for the shares ever. The gain reverses the previous day's slide in the stock, which fell after Bloomberg reported that U.S. prosecutors are focusing on the company's former CEO and CFO as they build a fraud case against the company, according to people familiar with the matter.
Takeda's shares fell 2.1 percent in Tokyo trading on Wednesday, while the broad Topix index lost 1.8 percent. Christophe Weber, the Frenchman who last year became its first foreign chief executive officer, has sought to streamline the Japanese drugmaker's operations, replenish its pipeline and make a bigger push overseas. As growth slows at home and it struggles to re-group from the expiration of a number of key patents, the drugmaker has signaled a willingness to look outward for growth. Under Weber, it has also intensified its focus on the three therapeutic areas of oncology, gastroenterology and the central nervous system. Among Takeda's latest best sellers is its gastrointestinal drug Entyvio.
If Takeda were to buy Salix assets, the deal would make sense because "there is already synergy -- it fits in to products they already have," said Kailash Chhaya, a Tokyo-based vice-president in the corporate finance group at Moody's Investors Service.
Core Unit
Salix is one of Valeant's crown jewels, and selling it would be a departure from what Chief Executive Officer Joe Papa has previously said was his plan to sell mostly non-"core" assets, though he would consider such moves at the right price. At $10 billion, Salix would go for less than the $11.1 billion Valeant paid for it after the companies struck a deal in March 2015.
The Salix unit includes Xifaxan, an anti-diarrheal drug that Valeant has highlighted as its biggest single product, with $200 million in second-quarter sales. The unit also includes Uceris, an ulcerative colitis treatment, which had about $37 million in second-quarter sales. Together, the two drugs made up about 10 percent of Valeant's second-quarter sales.
Takeda has been interested before. Bloomberg reported in May that the Osaka, Japan-based drugmaker had approached Valeant about a takeover earlier in the year, and been rejected, according to people familiar with the matter.
"A major acquisition could be a negative for Takeda's share price due to uncertainties over the near term," Credit Suisse analyst Fumiyoshi Sakai said in a research note on Wednesday. "Even if the acquisition is a good fit in strategic terms, it will take time to evaluate any synergies and get the two companies working together."
In a statement to Japan's stock exchange on Wednesday, Takeda said it is continuously considering various actions to boost growth and has nothing to be disclosed at this point. At any given time, the company is in discussion with many different parties in its key focus areas, it said, adding that it will disclose any agreement that is reached.
Pressure to Act
As Valeant's shares have lost more than 90 percent of their value since a peak last year, the company has come under pressure to sell assets and pay down some of its more than $30 billion in debt. Two of its former executives, ex-Chief Executive Officer Mike Pearson and ex-Chief Financial Officer Howard Schiller, are a focus of U.S. prosecutors as they build a fraud case against the company that could yield charges within weeks, according to people familiar with the matter.
Papa has been working to get the company on stable footing, in part by divesting assets to pay down debt. In June, Valeant was said to be working with advisers at Morgan Stanley as it weighed the sale of dermatology units Obagi Medical Products and Solta Medical for as much as $500 million. Another key business is Bausch & Lomb, which makes vision care products including contact lenses.
— With assistance by Natasha Khan
Before it's here, it's on the Bloomberg Terminal.
LEARN MORE