U.S. ELECTION WRAP: 'Black Swan' Theories Swirl With 7 Days to Go
As Hillary Clinton and Donald Trump zero in on the last full week of campaigning, investors and political pundits are increasingly focused on Election Day "black swans."
By and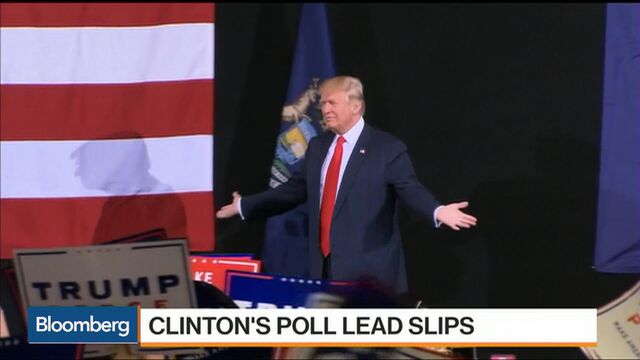 A Donald Trump victory, hidden voters, transit strikes, an Electoral College bust or even a Democratic sweep of Congress are among "black swan" events that could upend Election Day expectations and vex financial markets.

NEW FBI RELEASE

POLLS/FORECASTS

ADVERTISING

ON THE TRAIL

ETC.

CONGRESSIONAL ELECTIONS
SENATE RACES (Republicans hold 54-46 majority)
HOUSE RACES (Republicans hold 246-186 majority)
Before it's here, it's on the Bloomberg Terminal.
LEARN MORE