Trump's Anti-Obamacare Speech Sheds Little Light on Replacement
The ideas outlined Tuesday were included in a white paper he unveiled in March.
By and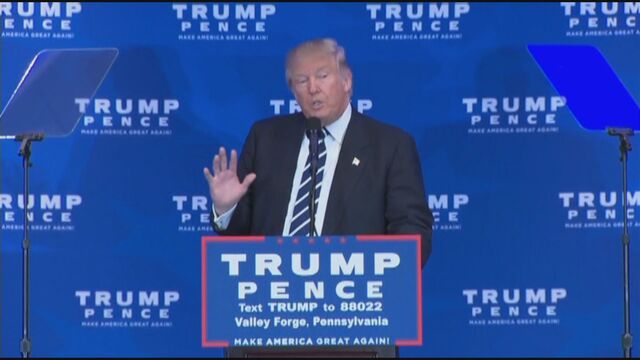 In what his campaign billed as a major health-care speech Tuesday, Donald Trump offered no new details about his plan to replace Obamacare, but re-emphasized the need to repeal the 2010 law.
The ideas outlined in Valley Forge, Pennsylvania, by the Republican presidential nominee—tax-free health savings accounts, insurance across state lines and sending Medicaid funds to states—were included in a white paper he unveiled in March. They largely match proposals popular among conservative policy advocates.
If elected president, Trump said he would ask Congress to convene a "special session" to repeal and replace the Affordable Care Act, invoking the legislative branch's power to come together during adjournments. However, Congress is already scheduled to be in session by the time he would take office.
"If we don't repeal and replace Obamacare, we will destroy American health care forever," Trump said.
House Speaker Paul Ryan has been similarly vague about his proposals to replace Obamacare, facing a lack of party-wide consensus on what system to set up instead.
After discussing health care, Trump moved to his standard stump speech, railing against free-trade deals like NAFTA, vowing to bring manufacturing jobs back and advance vocational training.
Vague Plans
Trump has excoriated the health-care law since the first day of his campaign as a "disaster," but concluded that it was "blowing up" when the Obama administration announced that premiums for benchmark mid-level health plans were increasing by 22 percent for next year, on average.
"She wants to put the government totally in charge of health care," Trump said, referring to his Democratic rival Hillary Clinton. "It's one of the single most important reasons we must win in November."
Clinton has proposed a series of changes to Obamacare, including adding a public insurance option to the exchanges.
While he's repeatedly vowed to repeal Obamacare, Trump has been far less clear about what would replace it. 
In March, Trump rolled out a vague blueprint for replacing Obamacare that features many of the same ideas Republicans have considered for years: selling insurance across state lines, tax-free health savings accounts, or HSAs, and block-granting Medicaid for states. He has also called for allowing the re-importation of cheaper drugs from abroad, a break from many fellow Republicans.
"We have to get rid of the lines around the state, artificial lines, where we stop insurance companies from coming in and competing," Trump said at the second presidential debate last month. "We want competition."
Trump and several down-ballot Republicans have slammed their Democratic opponents over the premium increases for the fraction of Americans purchasing plans on the exchanges, arguing that the Affordable Care Act was now unaffordable to many Americans.
Clinton has not shied away from defending Obamacare on the campaign trail, especially speaking to black voters about continuing progress under President Barack Obama.
"I am going to defend President Obama's legacy,'' Clinton said to a rousing ovation on Sunday during remarks at New Mount Olive Baptist Church in Fort Lauderdale. "And especially his Affordable Care Act, which gave 20 million people the chance to get health insurance.''
Pence's Way
Indiana Governor Mike Pence, Trump's running mate, also spoke in Valley Forge, focusing on his decision to veer from the standard approach to Obamacare by accepting federal money to expand Medicaid. 
"We don't want the socialized healthcare they have in Canada. We want American solutions," he said Tuesday.
Indiana has embraced Obamacare more than some other Republican-led states. Under Pence, the state last year opted to expand its Medicaid program under the ACA, making most low income people eligible for coverage. Nineteen states such as Texas and Florida, mainly led by Republicans, have decided not to expand their Medicaid programs.
Indiana took an unusual path to Medicaid expansion, though, getting a waiver from the federal government that let the state alter some key parts of the program. Most beneficiaries are required to pay co-pays of $1 to about $27 a month, based on income. In some cases, beneficiaries are also required to pay copays if they go to an emergency department for care. Most Medicaid programs don't include premiums and co-pays.
Individuals buying ACA plans in Indiana are also faring somewhat better. Premiums for benchmark mid-level ACA plans are declining about 3 percent in the state. A broader measure of how much individuals can expect to pay shows that premiums are going up by about 19 percent, though that's still less than the national average. The number of insurers offering plans on the ACA exchange in the state is declining to four from eight.
According to his campaign, Trump was joined by Wyoming Senator John Barrasso and several Republican members of the House of Representatives, including Georgia's Tom Price, Maryland's Andy Harris, North Carolina's Renee Ellmers, Tennessee's Scott DesJarlais, Texas' Mike Burgess, and Wyoming's Cynthia Lummis.

—With assistance from Zachary Tracer, Mark Niquette and Arit John.