The Fed Meets in November to Tee Up a Hike in December
And interest rate bets are put on for next year.
By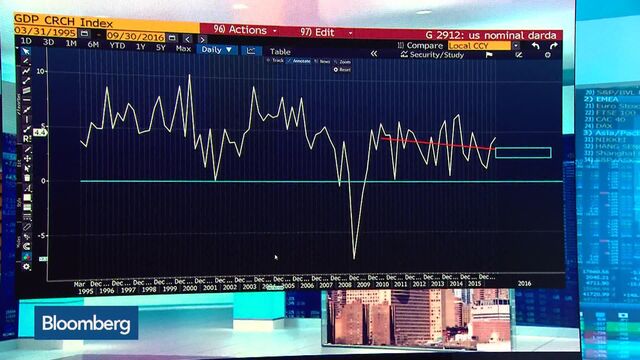 The author is the professor of practice and senior director of the Oregon Economic Forum at the University of Oregon and the author of Tim Duy's Fed Watch.
The outcome of the Federal Reserve's meeting this week was decided long ago — arguably as early as September.
That's when the central bank released its Summary of Economic Projections, showing officials saw only one interest rate hike as likely for the remainder of the year. Given that this would be both the first and the last rate hike of the year, it made little sense to move at a meeting without a press conference. It also made little sense to move right before the U.S. Presidential election, given the possibility of a negative market response to the results. Finally, incoming economic data revealed no pressing reason for the Fed to pull a hike from December to November.
Indeed, Fed hawks pushing for a rate hike in September likely knew that if they failed at that meeting, they would have to wait three months before they could make another run at a policy shift. While early in the intra-meeting period there was some effort to keep the November meeting 'live,' reality subsequently set in and now even those supportive of a hike in September see that December is the likely timing of the next move. For instance, Boston Federal Reserve President Eric Rosengren, who dissented in September in favor of a rate hike at that meeting, said on Oct. 14 that:
"We tended to move around the time that the chair has a press conference. So the next press conference meeting is in December. There's a much higher probability in December."
And San Francisco Federal Reserve President John Williams, a nonvoter who nonetheless supported a hike in September, is now ready to wait until December as well. Via an interview with the Wall Street Journal:
"We can always take policy actions at any meeting, but I think there are some advantages, in my own mind, around a press conference."
To be sure, despite such predictions, the Fed could pass on December as well.
Three participants in September did not see a rate hike as necessary in 2016. But absent a sharp slowdown in economic activity, they will probably accede to a hike. To date, doves have successfully restrained the rest of the Federal Open Market Committee's permanent voters from following through on their innate urge for preemptive rate hikes. And a still-flat unemployment rate and signs the economy has yet to regain its footing after a slow 2016, coupled with the ongoing asymmetric policy risks attributable to hanging close to the zero bound, all suggest the doves would be happy taking a pass in December as well.
Fed Chair Janet Yellen, however, clearly adheres to the basic view that the central bank needs to act sooner rather than later due to lags in the policy process. There are limits to her willingness to delay rate hikes when job growth continues to exceed Fed estimates of what is necessary to hold unemployment steady. If job growth slows noticeably, then perhaps the doves can regain the upper hand. But at this juncture, that looks increasingly unlikely. The next read on the labor market comes this Friday and analysts anticipate a solid 178,000 gain in non-farm payrolls for October.
In any event, the story is really not about December any longer as Fed officials instead lay down bets on 2017. Few seem as optimistic as the Fed a year ago. For example, Williams anticipates "a few rate" hikes in 2017. Chicago Federal Reserve President Charles Evans sees three hikes by the end of 2017, while Philadelphia Federal Reserve President Patrick Harker expects two rate hikes in 2017. This compares to the general expectation of four rate hikes for 2016. What explains the subdued outlook? Largely, it is an extension of the steady downward revision to the central bank's longer-term neutral federal funds rate forecast:

This downward revision has two impacts. First, the end point of this rate cycle is obviously lower. In other words, existing policy is less accommodative than the range of 25-50 basis points would suggest, and hence the distance to neutral is fairly short. And, following from the first point, every 25 basis points is thus more important than would be the case if the expected terminal Fed funds rate stood higher.
But will we get two — or more — hikes? That of course remains an open question.
The expectation of further rate rises is predicated on continued growth sufficient to place additional downward pressure on the unemployment rate in the absence of those hikes. The economy is operating near the Fed's estimate of the natural rate of unemployment. There may remain additional slack, and with inflation still below target and expected to remain below target, Yellen is willing to play along with the doves and see if that slack in fact exists.
If instead job growth remains solid yet is matched by labor force growth while inflation is forecast remain tame, Yellen will lead the Fed to the lower end of the expectations for rate hikes. But if inflation perks up or labor force participation falters – first instance, if demographics outweigh the cyclical dynamics – then Yellen will guide the Fed in the other direction. And if the next U.S. presidential administration works with Congress to push through a fiscal stimulus package, be wary of a monetary offset. The Fed will be hesitant to hold steady if unemployment forecasts look to be dipping toward and below 4.5 percent. Fiscal stimulus could push us there.
A third path exists, one where the economy fails to shake the doldrums of the past year. While the third quarter GDP report revealed that the inventory correction has drawn to a close, domestic demand continued to decelerate on a year over year basis:

If this continues, job growth will eventually falter as well, in which case 2017 could then be a year with just one or even no rate hikes.
There will likely be little change to this week's FOMC statement. With the market-implied odds of a rate hike in December hovering near 70 percent, the Fed will see little need in further prodding expectations. Plus, the Fed would prefer not to appear locked into a December rate if economic conditions do shift during the next six weeks. They would then be faced with criticism over their seemingly inconsistent communications approach.
Bottom Line: The stage is set for a December rate rise. The argument for a preemptive rate hike will likely retain the upper hand at that meeting. But the doves left their mark on policy. Not only did they delay the second rate hike of this cycle for a full year, the decline in the estimated longer-run federal funds rate during that time cemented an even more gradual policy path going forward. Whether or not even those diminished expectations can be met remains to be seen.