Teneo Holdings Sues Strategist Rollins for Defamation
By and
Suit filed in N.Y. state court seeks at least $10 million

Rollins accused of making false statements on TV and in print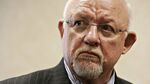 A consulting firm with ties to Bill and Hillary Clinton sued Republican strategist Ed Rollins, who helps lead a Donald Trump super-PAC, for defamation and breach of contract.
The case was filed in New York state court on Monday. Rollins is alleged to have defamed Teneo Holdings LLC while appearing on the Fox Business Network on Friday and in a New York Times article published Oct. 22. Teneo seeks at least $10 million in damages, according to a three-page summons that doesn't specify the statements at issue. A complaint with more details hasn't been filed.
Rollins, a former campaign manager for Ronald Reagan who later worked for Teneo for four years, is lead strategist for the Great America PAC, a political action committee that can accept donations of unlimited size for the Republican presidential nominee.
Rollins said there is nothing he has said or done that has been defamatory or violated his his confidentiality agreement with Teneo.
"I'm not dying for a fight but if they want a fight, I'm glad to have it," Rollins said in a phone interview.
Teneo President Doug Band is a longtime aide to Bill Clinton who purportedly said in a 2011 document released by WikiLeaks that clients of the high-powered consulting firm he co-founded helped raise money for the Clinton Foundation when its own efforts were flagging.
The firm has denied there was a conflict of interest. The Clinton campaign has declined to say whether the thousands of e-mails purportedly hacked from the personal account of campaign chairman John Podesta and posted by WikiLeaks are accurate.
The case is Teneo Holdings Inc. v. Edward J. Rollins, 159165/2016, New York State Supreme Court, New York County (Manhattan).
Before it's here, it's on the Bloomberg Terminal.
LEARN MORE