markets
Standard Chartered Shares Fall After Profit Misses Estimates
By
Revenue fell 7.5% at its corporate and institutional division

Stock declined the most since June after reporting results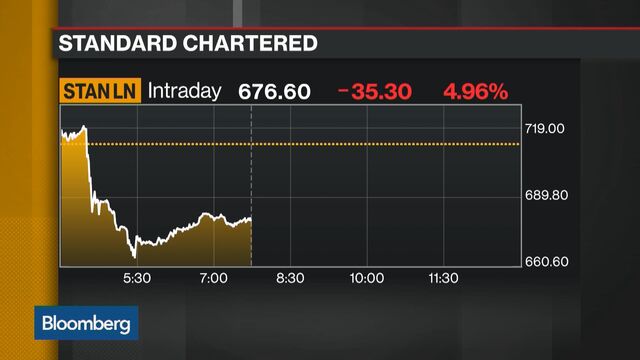 Standard Chartered Plc plunged the most since June after third-quarter profit missed analyst estimates on a drop in revenue at all four of its divisions, and executives said the economic environment remains challenging.
Shares fell as much as 7.2 percent in London trading. Adjusted pretax profit was $458 million, compared with a loss of $139 million a year earlier, the London-based lender said in a statement on Tuesday. That missed the $520 million average estimate of six analysts surveyed by Bloomberg News.
Chief Executive Officer Bill Winters is looking to show he's stemmed the bank's losses and is on the way to restoring the dividend, after a sharp drop in revenue and surging loan impairments last year drove the Asia-focused lender to its first annual loss since 1989. In August, the bank said it would probably miss a future profitability target set only last year because of an uncertain regulatory and economic environment.
The result "shows that things are still tough in the operating environment and the overall economy remains fragile," said Hugh Young, Asia managing director of Aberdeen Asset Management Plc, Standard Chartered's third-largest shareholder. "He and team are definitely on the right track, but my goodness it ain't easy."
Revenue slipped 5.9 percent to $3.47 billion. Corporate and institutional banking, its largest division, posted a 7.5 percent drop in revenue, while retail banking fell 1.1 percent.

Statutory pretax profit, which included $141 million of restructuring costs, fell 64 percent to $153 million in the third quarter. Operating expenses declined 4.5 percent from a year earlier to $2.39 billion, and the company said it remained on track to deliver more than $1 billion in cost cuts this year.
Losses on bad loans and other investments fell by more than half to $660 million in the quarter, according to the filing. That was more than the $612 million analysts had estimated. In 2015, impairments surged to a record $4 billion when the commodity market crashed and growth stalled from China to India.
Not Acceptable
Winters said Tuesday that "income and profit levels are not yet acceptable." He said his efforts to cut risk and tighten lending standards are now ingrained and the bank would focus more on winning more business from clients. In August, the bank said it would likely take longer to reach its goals of an 8 percent return on equity by 2018 and 10 percent by 2020.
"We are truly open for business: we are well capitalized, very liquid, we are not constrained by our own appetite for risk in any particular segment or geography," Winters said on a call with analysts. "It's really about getting our machine humming again after what's been a pretty tumultuous year."
The shares fell 5.2 percent to 675 pence at 11:15 a.m. in London. The stock had climbed 26 percent this year through Wednesday's close, the most among major European lenders. Standard Chartered and HSBC Holdings Plc, which both get most of their profit in Asia and report in dollars, have gained since Britain voted to leave the European Union, while other large U.K. lenders have declined. Even so, Standard Chartered still trades at about 40 percent less than its book value after plunging 39 percent in 2015.

Winters said the British government should focus on "getting something in place to minimize disruption from Brexit itself" in negotiations with the EU, which will start before the end of March and will last two years. That echoed calls from the banking industry for a transitional agreement with European leaders to help the City of London put in place new arrangements to access the single market and avoid the disruption of a cliff-edge departure.
Standard Chartered said its common equity Tier 1 capital ratio, a measure of financial strength, was 13 percent, less than the 13.3 percent analysts expected. The bank said it resolved around $14 billion of assets in October of its $20 billion liquidation portfolio, which should add 50 basis points to the measure in the fourth quarter.
The board will look at the end of the year at whether it's able to reinstate the dividend, which was scrapped last November, Finance Director Andy Halford said on a call with analysts. A major factor will be "exactly where things like Basel IV will end up," he said, referring to planned changes to the way lenders calculate how risky their assets are. The industry claims so-called Basel IV, which regulators say is simply an adjustment to Basel 3 rules, will result in hundreds of billions of dollars in additional capital charges.
Standard Chartered said Tuesday that the Hong Kong Securities and Futures Commission "intends to take action" against the bank for its role in an initial public offering in the city in 2009. Halford said on a call with reporters that he was unable to forecast the timing or size of any potential fine or settlement.
The bank is still under the scrutiny of an independent monitor as part of a 2012 deferred prosecution agreement, when it was fined $667 million for violating U.S. sanctions by engaging in $250 billion in transactions with Iran. It was also faulted by Singapore's central bank in July for lax anti-money laundering controls related to Malaysia's investment fund, 1Malaysia Development Bhd.
— With assistance by Richard Partington, and Sofia Horta e Costa
(
Adds investor comment in fourth paragraph.
)
Before it's here, it's on the Bloomberg Terminal.
LEARN MORE