Sanders Takes Aim at Insulin Makers in Latest Price Attack
By
Eli Lilly shares briefly drop after tweet by senator

Sanders say Lilly, Novo Nordisk making 'outrageous profits'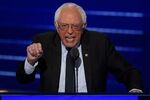 Makers of insulin became the latest target for Senator Bernie Sanders, who has been going after pharmaceutical companies one by one over the issue of high U.S. drug prices.
Shares of Eli Lilly & Co. fell after the senator, an independent lawmaker from Vermont, criticized the company and Novo Nordisk A/S over the price of insulin. Along with France's Sanofi, they are among the world's largest producers of the drugs, which are used by millions of diabetics.
"People are dying or getting sicker because they can't afford their insulin," Sanders tweeted Tuesday. "Just so Eli Lilly and Novo Nordisk can make outrageous profits."
Novo Nordisk declined 0.5 percent to 240.10 kroner as of 9:53 a.m. in Copenhagen trading, while Sanofi, which sells the blockbuster Lantus insulin, climbed 1.1 percent in Paris. Eli Lilly declined as much as 2.7 percent on Tuesday to its lowest price since April, before closing down 1.2 percent.
Sanders is attacking insulin makers even as U.S. payers like insurers and pharmacy benefit managers have been pressuring drugmakers on the price of the therapies. Last week, Novo Nordisk, the world's biggest maker of insulin, cut its long-term target for profit growth by half on Friday, citing pricing competition in the U.S. And Lilly reported disappointing third-quarter U.S. sales of Humalog insulin, its best-selling product, dragged down by a decline in net price -- the money a drugmaker gets once rebates and discounts are subtracted from the so-called list price.
Companies Respond
"While the list price for Humalog has gone up, Lilly actually receives a lower average net price now than in 2009," Greg Kueterman, a company spokesman, said in an e-mail. Humalog's net price dropped 24 percent in the U.S. last quarter, he said.
Novo Nordisk said in a statement that it's trying to ensure that a majority of Americans can get its insulins for about $1 a day and is looking forward "to working with lawmakers and officials toward a more sustainable system."
More more on rebates and the price of insulin in the U.S., click here
The list prices of the pen versions of Humalog and Novo Nordisk's Novolog have increased dramatically since 2011 -- they doubled per milliliter each, according to data compiled by Bloomberg. Though rebates to payers have also risen, many families on high deductible plans increasingly have to pay the full price of drugs before their health insurance kicks in. A 30-day pack of Humalog or Novolog can cost more than $500, according to drug-price tracker goodrx.com, though the amount of insulin taken varies widely by patient.
Sanders had sent shares of Ariad Pharmaceuticals Inc. plunging when he questioned the price of the company's pill for rare blood cancers last month. He later followed the tweet up with a letter to the company requesting information about recent price hikes.
Before it's here, it's on the Bloomberg Terminal.
LEARN MORE