Pfizer Ends Cholesterol Drug Trials as Earnings Fall Short
By
Trial stoppage to lower adjusted EPS by 4 cents this quarter

Third-quarter profit misses analysts' estimates on weak sales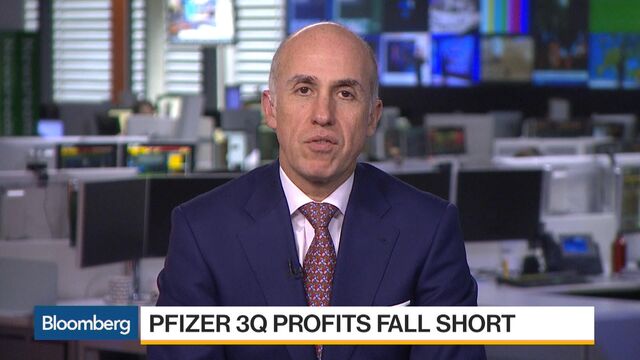 Pfizer Inc. surprised investors Tuesday by announcing it is ending development of an experimental cholesterol-lowering drug that was projected to be a blockbuster, and reported third-quarter earnings that fell short of analysts' estimates.
The drug, an injection called bococizumab, had unexpected side effects and was becoming less effective over time, Pfizer said in a statement. Stopping two large, final-stage tests of the treatment will lower full-year adjusted earnings by 4 cents a share. Two similar drugs are already sold by competitors, and sales of Pfizer's were projected to reach $958 million by 2022, according to analysts' projections. 
"This news was unexpected, and unusual given the late-stage of development of the product," Tim Anderson, an analyst with Sanford C. Bernstein & Co. who rates the stock as outperform, wrote in a note to investors. He said the decision narrows Pfizer's "already-thin" pipeline.
Third-quarter profit was 61 cents a share, the New York-based drugmaker said in a statement Tuesday, short of the 62-cent average of predictions compiled by Bloomberg.
The shares fell 2 percent to $31.08 at 12:11 p.m. in New York. 
Cholesterol Drug
Chief Executive Officer Ian Read said that the company decided to end development of bococizumab after assessing the competitive landscape and concluding it wouldn't significantly benefit patients or be commercially successful. Read said the company recently received data that showed a "substantial" lessening of the drug's impact on patients' LDL cholesterol at one year. There were also immune system responses in patients on the drug, and reactions at the site of injection.
The earnings are the first time Pfizer's profit has missed projections since the first quarter of 2013, and the disappointment comes after several attempts by the company to make major strategic changes. The drugmaker decided in September not to split into two companies, ending four years of speculation of a possible breakup, and to simply keep new products and older medicines that have lost patent or are close to doing so into separate units. Pfizer, which walked away from a $160 billion merger with Allergan Plc in April in the face of regulatory hurdles, is also using deals to add promising drugs: It recently outbid a group of rivals to buy Medivation Inc. and its blockbuster cancer treatment for $14 billion.

Read said the company continues to look to make deals and is not limited by the size of potential acquisitions, though he believes there's more benefit from adding onto the company's existing areas of focus. He said his sense is that the drug industry is "on pause" for major deals until after the U.S. presidential election on Nov. 8.
Read also said that the U.S. drug pricing debate has "neglected" the role of pharmacy benefit managers, who negotiate drug discounts on behalf of governments and insurers. Chief Financial Officer Frank D'Amelio said Pfizer's drug prices normally increase in "low single digits," which remains the case for 2016. "I don't believe there's any reason for Pfizer to change its approach to pricing of our products as we sit here today," Read said.
Newer Drugs
To offset expiring patents on drugs like the pain pill Celebrex, Pfizer has been relying on its innovative division, led by breast cancer drug Ibrance, blood thinner Eliquis and rheumatoid arthritis pill treatment Xeljanz.
Sales of Ibrance more than doubled to $550 million, compared with the $548 million average projection. Pfizer is working on expanding the label for the drug, which could face competition soon from treatments developed by Novartis and Eli Lilly & Co. Analysts predict that the treatment will reach $5.8 billion in sales by 2020. The company said Ibrance holds both 50 percent of first-line market share and second-line treatment.
Xeljanz sold $235 million, while projections were for $218 million.
Highlights from the third-quarter:
Revenue rose 7.9 percent to $13.1 billion, in line with analysts' projections.
Pain medicine of Lyrica sales rose 2 percent $1.24 billion, versus estimates of $1.23 billion.
For 2016, Pfizer sees adjusted earning per share of $2.42 to $2.47 a share, excluding costs of 4 cents for the discontinuation of the bococizumab development program.