Park Scandal Investigators Sought Files From Eight Korean Banks
by and
Prosecutors asked banks for documents tied to Park's friend

President's associate Choi Soon-sil detained for questioning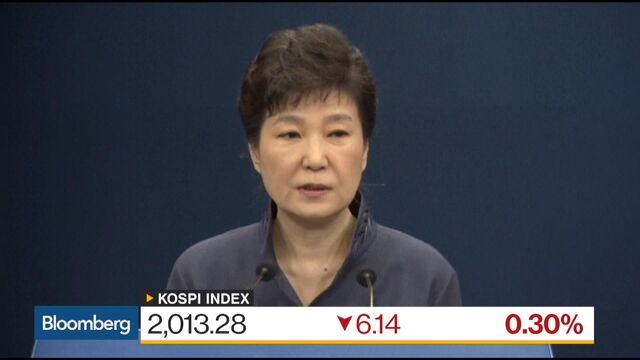 South Korean prosecutors grilled President Park Geun-hye's friend for a second day while confirming they sought information from eight banks in connection with an influence-peddling scandal.
Investigators asked for accounts and financial transactions by some individuals involved in the case, Roh Seung-kwon, a spokesman at the Seoul Central District Prosecutors' Office, said on Tuesday. He said it was "highly likely" that prosecutors will ask the courts to issue an arrest warrant for Choi Soon-sil, Park's friend who is at the center of the case.
Yonhap said the financial institutions were Woori Bank, Standard Chartered Bank Korea Ltd., Shinhan Bank, Citigroup Inc., Nonghyup Bank, KEB Hana Bank, Industrial Bank of Korea and Kookmin Bank.
Industrial Bank of Korea told Bloomberg by e-mail that prosecutors came with a search warrant late Monday and asked to it to submit information on the financial transactions of "some individuals" linked to the investigation. Kookmin Bank couldn't immediately comment, while James Griffiths, a spokesman for Citigroup in Hong Kong, declined to comment. The other banks didn't immediately reply to requests for comment.
For an explainer of the scandal, click here
The moves are the latest development in a case that has sparked street protests in the nation as frustration grows over Park's leadership at a time of sputtering economic growth and high-profile struggles at companies like Samsung Electronics Co. and Hanjin Shipping Co. Park has replaced senior advisers and faces calls from her own party to agree to a coalition government.
Choi was placed under emergency arrest around midnight after initial questioning led prosecutors to conclude that she could flee or destroy evidence, spokesman Roh said earlier by phone. Choi has denied wrongdoing, Roh said, declining to mention what charges she may be facing.
Prosecutors raided Park's office over the weekend to investigate allegations that Choi -- a private citizen whom opposition lawmakers have linked to a religious cult -- wielded influence on state affairs over an extended period. Park's opponents allege that Choi helped make budget and staff decisions in addition to cajoling a business lobby group to raise money for two foundations she controls.
Park's travails have attracted the attention of North Korea, with the Korean Central News Agency calling her administration "the most deformed, abnormal and stupid in contemporary society."
Before it's here, it's on the Bloomberg Terminal.
LEARN MORE