Nine Charts That Show China's Economy Is On A Tear
by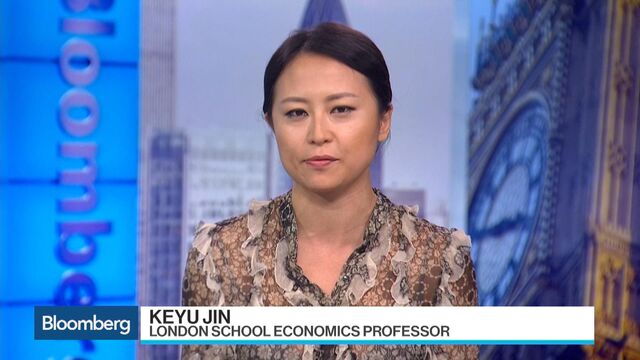 How times have changed.
Market turmoil at the start of the year was linked to fears of an imminent hard landing in China, as equities tanked and concerns about yuan depreciation mounted in light of sizable capital outflows.
But as the year has progressed, worries about the state of the world's second-largest economy have abated as economic data have firmed. There's a bevy of evidence from domestic figures and other metrics sensitive to the state of the Chinese economy now showing that the nation isn't in the midst of a disruptive downturn.
According to Bloomberg's monthly growth estimate, the Chinese economy has expanded by in excess of 7 percent year-on-year from March through August as monetary conditions remain accommodative.

Both of the nation's manufacturing purchasing managers' indexes — which show the health of the manufacturing sector based on factors like production, orders, and employment — have returned to a level consistent with expansion in the sector over the past few readings.

Profit growth among industrial enterprises has similarly rebounded strongly.

Macau gaming revenue, a proxy for the state of the upper-end Chinese consumer and the performance of emerging markets relative to their developed peers, is up 8.8 percent year-on-year, its best showing since 2014.

A chart from Bespoke Investment Group Macro Strategist George Pearkes also testifies to improving activity in the region: annual container throughput growth at Southeast Asian ports has moved higher in 2016 after decelerating the previous year.

Australia, which counts China as its largest trading partner, has seen its currency — unloved in the wake of the downturn in commodities — trend higher in 2016. The Reserve Bank of Australia cited "steadied" conditions in China when it made its decision to keep rates unchanged on Tuesday.

Meanwhile, factory gate inflation has returned for the first time in nearly five years, implying that China won't be sending a deflationary impulse abroad.

Two commodities that have traditionally been in high in demand amid China's infrastructure build-out — iron ore and copper — have seen prices rise over the past year, and gain sharply in recent weeks.

The infamous Li Keqiang Index, a proxy for the growth of the "old" economy based on bank loans, electricity production, and rail freight, has nearly risen at a double-digit pace through September, its fastest pace since 2013.

Policymakers in Beijing have shown their ability to expeditiously engineer growth bounces via credit expansion. While strategists caution that this stabilization mechanism won't be available forever, it's certainly helped give market participants one less reason to fret during a tumultuous year.
"The good Chinese data has been greeted, once again, by cries that they are buying a little growth with too much credit expansion," writes Kit Juckes, global strategist at Societe Generale SA. "Which seems true and probably will see this growth bounce run out of steam in the New Year."
Before it's here, it's on the Bloomberg Terminal.
LEARN MORE