Mexican Peso Slides After U.S. Poll Shows Trump Edging Ahead
By
Easily-traded currency is used as proxy for election results

ABC poll places Trump ahead of Clinton, within margin of error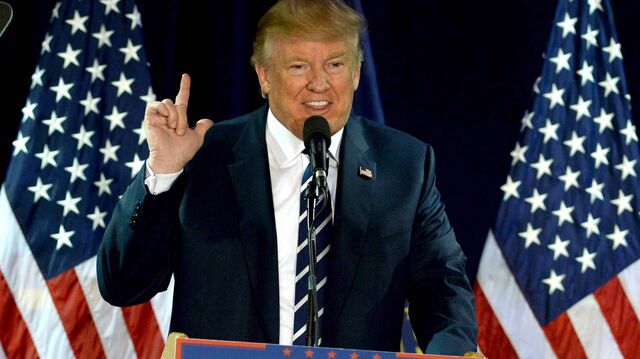 Mexico's peso slid to a three-week low after a poll showed Republican candidate Donald Trump narrowly ahead in the presidential race a week before the vote.
The currency fell 1.8 percent, the most in almost four months, to 19.2088 per U.S. dollar as of 12:37 p.m. in Mexico City after the ABC News/Washington Post tracking poll placed Trump 1 percentage point ahead of Democratic rival Hillary Clinton, within the margin of error. The peso fell 0.8 percent on Friday after the Federal Bureau of Investigation said it was re-opening an inquiry into Clinton's use of e-mail. The Brazilian real fell 1.5 percent, reversing an earlier gain.
Mexican exporters are heavily dependent on access to the U.S. market and Trump has said he would revisit the North American Free Trade Agreement that governs commerce between the two countries, threatening the motor of Mexico's growth. The peso is the second-most liquid currency in emerging markets and has become an easy-to-trade proxy for investors' perceptions of who will win the White House.
"The Mexican peso is really being driven by what's going on in the U.S. elections," said Simon Quijano-Evans, an emerging-market strategist at Legal & General Group Plc in London. "This is going to be the case for many emerging-market currencies for the next seven days: markets are going to be second-guessing what a Trump win or loss means. The Mexican peso has a higher correlation, but there is general spillover."
Mexico's benchmark IPC index dropped 1.5 percent, the most in more than 7 weeks. Shares of companies like Alsea SAB and Cemex SAB that are sensitive to peso weakness fell with the currency.
The tracking poll released today indicated that Trump has 46 percent support nationwide among likely voters, compared with Clinton's 45 percent. The survey was conducted Oct. 27-30, with a margin of error of plus or minus 3 percentage points.
Markets are "certainly" testing the Mexican central bank's intervention policy, said Win Thin, global head of emerging markets at Brown Brothers Harriman & Co. "Expect weakness to continue tomorrow," he added.
The central bank last intervened in the foreign exchange market in February, selling dollars in a discretionary manner directly to banks.
Before it's here, it's on the Bloomberg Terminal.
LEARN MORE