Material World: How the Kardashians (and Other Celebrities) Get You to Buy Stuff
An examination of celebrity investing.
by and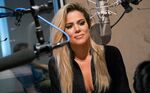 Subscribe to Material World on iTunes Podcasts
Subscribe to Material World on Pocket Casts 
Celebrities, they're just like us! Or rather, marketers have long relied on the fact that we want to be just like them. Slapping a famous name and image on to products has been a sales tactic for more than a century. But consumers's thirst for authenticity and attachment to social media have changed the ways that fame can be used.
Join us as Jenny and Lindsey dive into the world of celebrity to find out why the relationship between companies and stars increasingly revolves around investments, not endorsements. Khloe Kardashian tells us why she no longer feels obliged to accept every product offer dangled her way. The comedians behind the Fat Jewish and Babe Walker on Instagram and Twitter explain the origins of White Girl Rose. And Jody Levy, co-founder and creative director of WTRMLN WTR tells us what one famous backer – Beyonce – brings to the table.
Before it's here, it's on the Bloomberg Terminal.
LEARN MORE