Mandela Foundation Says 'Wheels Coming Off' S. African State
By
Protests planned against President Zuma's administration

ANC must place government in capable hands: Mandela Foundation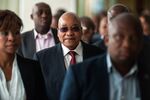 South Africa's democracy is at risk because of the concentration of power around a single leader, Nelson Mandela's foundation said, a day before business, religious and civil-rights groups plan to join opposition parties in protests against President Jacob Zuma's administration.
"Twenty years since Nelson Mandela signed South Africa's constitution into law and as the third anniversary of his passing approaches, it is painful for us at the Nelson Mandela Foundation to bear witness to the wheels coming off the vehicle of our state," the group's chairman, Njabulo Ndebele, said Tuesday in an e-mailed statement. "What public discourse has described as 'state capture' by private and political interests is, we believe, a real threat to the republic."
The statement amplified the growing chorus of opposition to Zuma, who's been implicated in a succession of scandals since taking office in May 2009, including a finding by the nation's top court that he violated the constitution for failing to repay taxpayer money spent on his private home. His lawyers went to the High Court on Tuesday in a bid to block the release of findings by the graft ombudsman as to whether a family that's in business with his son exerted undue influence over the state.
Zuma has been at loggerheads with Finance Minister Pravin Gordhan over plans to build new power plants and the management of state companies and the national tax agency. Prosecutors withdrew fraud charges on Monday against Gordhan, in a case that he described a political stitch-up orchestrated by people intent on raiding state resources.
Zuma, whose allies dominate the leadership of the ruling African National Congress, has denied that he ever intentionally broke the law and shrugged off calls to resign.
Political Upheaval
The political upheaval has weighed on South Africa's rand and bonds and raised the risk of the nation's credit rating being downgraded to junk.
A group of 101 senior ANC members, including former Finance Minister Trevor Manuel, ex-parliamentary speaker Frene Ginwala, and Ahmed Kathrada, Denis Goldberg and Andrew Mlangeni, who were sentenced with Mandela, also criticized the ANC in an Oct. 28 statement. Mandela, who was South Africa's first black president, died on Dec. 5 three years ago.
"The trust between the ANC and communities, built over up over so many years, is now severely under threat," the group said.
The National Health and Allied Workers Union, an ANC ally that represents about 300,000 workers, joined the fray Tuesday, calling on Zuma to take the "honorable and courageous decision" and step down before his current term ends in 2019 and for his deputy Cyril Ramaphosa to replace him.
An internal ANC report presented to its top leaders said corruption, an arrogant leadership and faction fighting are tearing at the party's soul.
"We are reaping the results of a political trend of personalizing matters of state around a single individual leader," Ndebele said. "This in a constitutional democracy is to be deplored. We call on the governing party to take the steps necessary to ensure that the vehicle of state be protected and placed in safe and capable hands."
Before it's here, it's on the Bloomberg Terminal.
LEARN MORE