London's Iconic Red Trading Sofas Find a New Home in China
by
'China is the big elephant on the other side,' HKEx CEO says

LME is moving closer to goal of overseeing Chinese stockpiles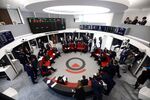 Few things are more iconic to global commodities trading than traders shouting at each other on red leather sofas at the London Metal Exchange.
So when Hong Kong Exchanges & Clearing Ltd. decided to launch a metals-trading platform in the southern Chinese city of Shenzhen, executives stuck with a tried and true formula. They built a replica of the London open-outcry ring, complete with red leather sofas and big digital pricing boards hanging overhead.
"You go there, you close your eyes, you think you're in Finsbury," said Charles Li, referring to the London square where the LME is located.
The Chinese duplicate is part of Li's ambitious plans to connect the LME and its system of warehouses and trading with the world's biggest consumer of commodities. HKEx aims to provide a marketplace for physical metals that will eventually generate benchmark prices in China. It wants to fill a gap in the mainland physical markets that are highly fragmented and where warehousing systems may not be reliable and financing hard to obtain.
"We bought LME, the global trade of base metals, and we know that China is the big elephant on the other side," Li said late Monday at a press briefing in London.
To read more about HKEx's plan for a trading platform in Shenzhen, click here.
The LME is also moving closer to its goal of overseeing stockpiles in Chinese warehouses. The exchange will trial issuing warehouse receipts for commodities stored in the Shanghai custom-free zone under its LMEshield electronic system in partnership with Henry Bath & Son Ltd., according to a statement on Monday.
Li said he picked Shenzhen because of its free-trade zone, proximity to Hong Kong and local government, which provided 100 apartments for staff. The location may employ about 150 people once started, he said. It took 20 days to build the new ring.
"The whole idea is that we could eventually become the singular depository of the physical price benchmarks across the spectrum of commodities," Li said. "It's a big dream."
Before it's here, it's on the Bloomberg Terminal.
LEARN MORE