Jay Faison's Expensive, Maddening Quest to Save the Planet (And the GOP)
A donor trying to shift Republicans' stance on climate learns just how little $175 million can buy.
By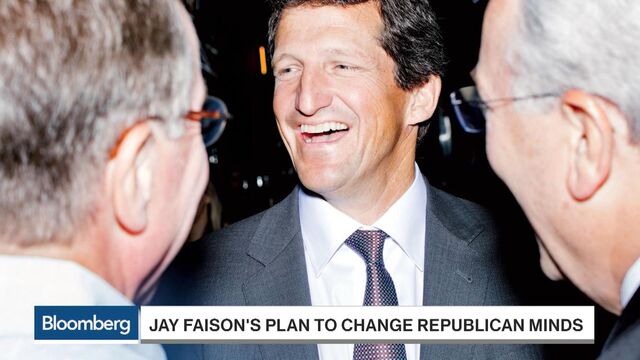 When Jay Faison, one of the Republican Party's most generous patrons, flew to Cleveland for its national convention in July, things weren't looking good for anyone concerned about the health of the planet. The month was shaping up to be the hottest in recorded history, and the party was about to nominate a candidate who'd called global warming a hoax invented by China. GOP leaders were also preparing their most backward climate platform in a decade—one that, beneath the heading "Environmental Progress," questioned the objectivity of established climate scientists and faulted Democrats for inventing "the illusion of an environmental crisis." Inside the air-conditioned Huntington Convention Center, nobody objected when one delegate, an evangelical activist from Texas, suggested that coal, which is responsible for a quarter of U.S. greenhouse gas emissions, be described as "clean." "The Democratic Party does not understand that coal is an abundant, clean, affordable, reliable domestic energy resource," the final text of the document read.
Faison arrived at the convention a few days after the platform committee met. The staff of ClearPath, the nonprofit foundation he'd created to persuade conservatives to fight climate change, had quietly lobbied the platform's drafters, to little effect. But as Faison worked the panel-discussion circuit in Cleveland, he was relentlessly, almost absurdly, diplomatic. "I don't think calling coal 'clean' without explaining is a great political move, and I'm not sure I agree with it, exactly," he said at an event hosted by the American Petroleum Institute. Furrowing his brow, he quickly added that coal could be made clean, and that "we need to work towards it."
The year before, Faison had arrived in Washington as a political nobody, flush with cash from the sale of his Charlotte-based electronics company. He hoped that, by dedicating his time and $175 million to the cause, he could show Republicans they had a role to play in saving the planet. Others have attempted this mission, but few have been as determined as Faison—and no one has invested as much money. Yet he's encountered such indifference and hostility that he's been forced to scale back his ambitions and shift sharply to the right. It's been a lesson in what happens in politics when the irresistible force of cash meets the immovable object of dogma.

If you were looking for the wonkish, Chamber-of-Commerce Republicanism that's gone out of favor in the age of Donald Trump, you'd find it in Faison. Forty-eight years old, with a jutting chin and a compact, athletic frame, he wears a $34 Ironman watch, hunts quail, drives a Tesla, and attends both CrossFit and church. He's impressed by experts, advanced degrees, and elite institutions. When he says the word "nuclear," which he does a lot, he gives it an extra "u," the way George W. Bush does.
Faison grew up in Charlotte, the son of a wealthy shopping-mall developer and Republican power broker. After attending business school at the University of Virginia, he opened a chain of Blockbuster stores in Portugal, then founded SnapAV, which makes home-theater and other audio-video equipment and sells it online. A lifelong Republican, his business career reinforced a native skepticism about the effectiveness of big government.
Faison first got interested in climate change about 16 years ago, when his wife dragged him to a talk by a trustee of the Environmental Defense Fund. The speaker was an investment banker who'd had a distinguished career at Morgan Stanley. If a serious businessman like that is worried about the climate, Faison recalls thinking, maybe there's something to it.
In 2013 he sold his stake in SnapAV for about $200 million and looked for a cause to which he could dedicate his sudden surfeit of time and money. He toyed with the idea of developing software for churches in poor countries before committing to climate change. Given the scientific consensus that human activity is causing the earth to warm, the resistance of his fellow Republicans puzzled him. Maybe, he figured, they needed to hear the message delivered in a conservative voice—one that didn't remind them of liberal politicians like Al Gore. That fall, he started ClearPath, funding it the following year with $165 million, which he says was more than two-thirds of his net worth at the time. He immersed himself in the scientific literature and met with top researchers at NASA and the National Oceanic and Atmospheric Administration.
Why tackle a problem that might place him at odds with his friends, family, and party? Faison has a stubborn streak and a tech entrepreneur's taste for disruption. Adam Levy, a friend and business partner at SnapAV, describes his colleague's management style as "Let's set some unreasonable expectations and see how close we can get to them."
For ClearPath, Faison approached the problem with a classic chief-executive move: He hired McKinsey. The global consulting firm is better known for corporate strategy than for political savvy, but Faison was impressed by the Ivy League pedigrees of the consultants he met. "One gal … she went to Cornell and won the science award, like, for the whole school," he says.
Faison's initial plan was to pitch the grass roots: a social media campaign intended to drive Republican and independent voters to clearpath.org, where the Ivy Leaguers had assembled unimpeachable, footnoted scientific information, mingled with reminders that the Reagan administration had helped save the ozone layer and George H.W. Bush's had stopped acid rain. Across a few months, ClearPath poured nearly $2 million into Facebook and Google ads, but almost nobody stayed on the site for more than a couple of minutes or shared links with friends. Only a handful of people commented on the foundation's Facebook page, and many of those who did were talking about "Liberal Envirowhackoes" or posting dubious data from climate-denier sites. "I thought there were people like me that were curious and wanted to get knowledgeable," Faison says. "And there are people like me. It just happens to be, like, 0.2 percent of the population that's not Democrat." After a few months of fruitless tweaking, he ended the campaign.
The problem before Faison was one that Daniel Kahan, a professor at Yale Law School, calls the cultural cognition thesis. In 2010, Kahan helped create an online survey that asked 1,540 Americans to rate the risk of climate change on a scale of 1 to 10 and tested respondents' knowledge of science with questions such as "Electrons are smaller than atoms [true/false]." Not surprisingly, people with liberal leanings saw climate change as a bigger risk than did conservatives, and liberals with a strong grasp of science perceived more risk than did liberals with less knowledge of the subject. But among conservative-leaning respondents, the inverse was true—the better they understood science, the less risk they assigned to climate change. "They are using their reason not to figure out what the facts are, but to form an engagement with the issue that will reliably summon their view of who they are," Kahan says. "It's perfectly rational, because other people they depend on are going to judge them for it."
Kahan argues that when people form opinions on controversial issues remote from their daily lives, identity trumps facts. He's identified similar effects in the way people assess the HPV vaccine, fracking, and gun control. The findings suggest that liberals are no more likely than conservatives to base their beliefs on science. Other studies Kahan has conducted show liberals are just as prone to rejecting science on issues like the storage of nuclear waste.
Following Kahan's logic, an ad campaign like Faison's risks hardening the opposition. Describing a similar blitz by a liberal activist, Kahan asks, "Why doesn't he just take a truckload of money and set it on fire?"
Faison was hedging his bets, though, and right around the time his social media adventure was flopping, he announced a big investment in politics. In June of last year, he committed to spending $10 million over several years in support of Republicans who backed clean energy, and to raising millions more from other donors. Washington soon became his exclusive focus. Why try to change countless Republican minds, he figured, when the 300-odd in Congress had the power to effect real change? To prove he was serious, he wrote a $500,000 check to a group backing Kelly Ayotte, a moderate New Hampshire senator facing a tough reelection fight. Until then, Faison had been unknown to Washington, but the money made him an instant player. The Senate majority leader, Mitch McConnell, stopped by Charlotte for a chat. Congressmen were suddenly very easy to get on the phone. Politico put him on its list of 50 "thinkers, doers, and visionaries transforming American politics."
He soon learned that access isn't the same as influence. Not long after he wrote the check for Ayotte, he found himself in a private room at Washington's mahogany-paneled Capital Grille, where a porcini-rubbed rib-eye sells for $56. A dozen or so of the party's leading financiers were gathered in support of Thom Tillis, a North Carolina senator, and McConnell, from coal-rich Kentucky. At one point Tillis turned to Faison. "I like to spice things up at these dinners," Faison recalls him saying. "Jay, tell us all about your issue."
Faison swallowed and launched into his case for climate action. "It's just a matter of time before the Republican Party is going to get beaten up on this," he said. "Every academy of science in the world, 82 percent of the Fortune 500 companies, NASA, NOAA, every institution that has studied this agrees." An awkward silence followed.
Sometimes the hostility was more overt. Senator James Inhofe of Oklahoma, who famously tossed a snowball across the Senate chamber to support his contention that the planet isn't warming, cautioned conservatives in a speech about a new deep-pocketed donor who was "claiming to be a Republican." Between Faison and the liberal activist Tom Steyer, Inhofe said, an avalanche of cash was headed to Washington "to try to resurrect the myth of global warming."
As Faison made the rounds in Congress, he got the feeling people saw him as a closet liberal. "When I say 'climate change,' they think Nancy Pelosi," he says, referring to the House minority leader. He was hoping to open a D.C. office and hire a team of Washington staffers, but unless something changed, he realized, he wouldn't be able to find any qualified Republicans to work for him.
The resistance was partly cultural, but it was also pragmatic. Even Republican politicians who don't share Inhofe's views remember what happened to Robert Inglis, the former GOP congressman from South Carolina. In 2010, Inglis ran for his seventh term. Tea Party fervor was cresting, and a Democratic climate bill was foundering in the Senate. In just a few years, climate change had gone from a bipartisan issue to a polarizing one. Asked about global warming at a Tea Party gathering in his district, Inglis defended mainstream climate science and was roundly booed. A month later, he lost his primary by 42 points. On Capitol Hill, his name is now a verb—nobody wants to get "Inglised" over climate change.

Last fall and winter, Faison brought in a new group of advisers and overhauled his platform in a way that burnished his conservative bona fides. Where once he'd floated the idea of a market mechanism to discourage emissions, in consultation with a group of carbon-tax advocates, he now dropped such talk and scrubbed the advocates' names from ClearPath's website, along with virtually any mention of wind or solar power. The new platform proposes cutting red tape on nuclear and hydropower development, expanding the use of natural gas, and encouraging research into carbon-capture technology that might one day make "clean coal" a reality. Around the office in Charlotte, they called it ClearPath 2.0.
Faison laid out his new strategy at the National Press Club in March, in six minutes of prepared remarks that were notably free of the words "climate" and "warming." When a reporter finally asked about the C-word, Faison said it was beside the point. "You don't need to agree on climate to agree on conservative clean energy," he said. "Frankly, we can walk into any office in Congress and have these types of conversations in a very nonconfrontational way."
A few weeks later, on a sunny spring afternoon, I followed Faison as he shuttled across Capitol Hill for meetings with three congressmen. He brought along his new head of government affairs, Zak Baig, a former staffer for Senator David Vitter of oil-rich Louisiana. Baig, I later found out, is himself skeptical about human-caused climate change.
The pitch they planned to make wasn't scientific or moral, but political. When we reached the office of one representative, Faison went in armed with a graph showing how Republicans' lack of a "clean energy" message pushes independents and young voters away from the party. He emerged an hour later, smiling. "You can tell it's a good meeting when the scheduler comes in and he waves them away," Faison said. "He knows we don't have a message. He knows we look like Neanderthals."
A few weeks later, I visited Faison in Charlotte. As he drove me around town in his Tesla, he was brimming with optimism. At lunch, he left to take a call and returned with good news: A member of the Koch brothers' donor network had committed $100,000 to Faison's political fund. He'd been writing clean-energy op-eds with a couple of senators, and he was working with lawmakers on a handful of policy initiatives, some of which, on hydro and nuclear power, were creeping forward in Congress. He said he hoped the GOP platform would present another chance to showcase his ideas.
One of ClearPath's new advisers, George David Banks, a gregarious Missourian and former staffer for Inhofe, appreciates the delicacy of these discussions for Republicans. "I don't sit and talk about the science—'Do you believe in the science?' " he says. "You remember the whole gay thing in the military, don't ask, don't tell? That's kind of what it is." In Banks's telling, Faison failed, early on, to win over the permanent Republican professional class, which holds much of the real power in Washington. "When you are bringing something that's not part of the consensus, or is out of the box or unconventional, you need to build alliances with a broad segment, and it's not just people up on the Hill. It's people downtown, because of the important advisory role they play," he says, referring to the former Hill staffers who fill conservative think tanks, law offices, and lobbying firms.
Faison had always thought of ClearPath as an ally of industry, but he hadn't made outreach a priority. After Banks joined this spring, he organized dinners and cocktail hours to introduce Faison to lobbyists representing interests like coal, utilities, and cement. Over the summer, Faison toured a huge coal plant in Illinois and sent an aide to speak at a nuclear-energy event at the Heritage Foundation, one of the leading forces of climate denialism. He says his new approach reflects his own learning on policy issues. He's become convinced that wind and solar power won't wean the world off carbon emissions, that the solution requires nuclear, hydro, and "clean" coal, and that these energy sources need an advocate who isn't perceived as an industry shill.
At the same time, Faison acknowledges an element of realpolitik. "There's some tactical in this. There's not a lot of black and white in this. There's not a lot of black and white in D.C." He puts the ratio of personal evolution to political pragmatism at "85-15, or 80-20." And many Republicans are praising him. "I don't know where or when we got to this point that somehow or other, if you wanted to focus on clean energy sources, that meant you were a Democrat," says Lisa Murkowski of Alaska, the chairwoman of the Senate Committee on Energy and Natural Resources. "He is helping shape the discussion on energy in a positive and constructive way."
The environmental Left, which once praised Faison, now sees him as an apologist for the fossil fuel lobby. And not everyone on the Right buys his new approach, either. One afternoon, I stopped by the office of Thomas Pyle, who runs the American Energy Alliance, an advocacy group. AEA has received funding from Koch Industries and other fossil fuel interests, and Pyle once worked as a lobbyist for Koch. "The stuff that he's providing is very benign. It's easy for everyone to get behind," Pyle said of Faison. "Nuclear. Hydro. That's kind of where he's at right now. Great, so am I!"
Then he pointed at a manila folder lying on a table—a file on Faison that was circulating among conservative operatives in Washington. Inside was evidence of Faison's earlier flirtation with a carbon tax, as well as e-mails obtained through public-record requests, showing he'd once funded a state-level, bipartisan climate project. Most troubling to Pyle, that initiative had involved a former aide to Gore. "You can't get to where he wants to be, in his lifetime, without a massive dose of good old-fashioned government intervention," Pyle said.
Faison tries to stay upbeat in the face of such resistance, but he clearly finds it maddening. In May, I saw him on another trip he made to Washington, to buy a town house that would serve as a headquarters for his growing political operation. The place was about a 15-minute walk from Capitol Hill. He told me he was thinking about getting a bike, but that Baig had half-jokingly warned him against it. "People will think somehow I'm some kind of granola guy," Faison said, his voice rising. "Why is that? Riding a bike. I mean, it's cheaper. It's more efficient. It's faster. It's a good business move. We've created all these labels. I just don't get it." He rapped his fingers on the table. "I'm probably just going to ride the bike and take the hits. You know what I mean? I'm going to ride the damn bike." (As of late October, he hadn't bought one.)
The summer and fall brought little to suggest that Faison was altering the party's direction. Before the convention, he sent Baig to a meeting in Washington to help draft the platform's passages on energy and the environment, but the aide was one of the only people in the room who wasn't an industry lobbyist, and few of ClearPath's ideas made it into the text. Trump's slide in the polls also hurt the chances of the 15 congressional candidates Faison is backing; in New Hampshire, where Ayotte once held a narrow lead, some polls show her trailing.
Faison's party loyalty has its limits. His favored presidential candidates, Jeb Bush and Lindsey Graham, tanked early in the primaries; he recently told me he was thinking about voting for Gary Johnson, the Libertarian candidate. Faison says he's spent more than $4 million on ClearPath's political operation and his own direct giving, and the foundation will have paid out an additional $26 million for nonpolitical work.
Faison is already looking past Election Day. He's been gathering data about the effectiveness of digital ads touting his candidates' positions on clean energy—data he plans to share with any Republican who will listen to him. Meanwhile, ClearPath continues to move forward on more than a dozen policy initiatives, including the hydro and nuclear bills it has in the legislative pipeline. He pledges to keep at it for as long as it takes. "Now we're pushing the ball down the hill. When I started, we were pushing the ball up the hill," he says. "If I can accelerate what should happen, even the smallest amount, I will feel very good."