Indonesia Central Bank Chief Questioned by Anti-Graft Agency
By and
Governor not a suspect in case involving government contracts

Martowardojo helped to improve transparency of monetary policy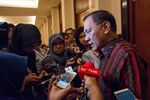 Indonesia's central bank Governor Agus Martowardojo was questioned by the nation's anti-corruption agency as a witness in a probe relating to a government contract that was awarded during his time as finance minister.
Martowardojo spent several hours Tuesday at the Jakarta offices of the agency known as KPK, emerging at about 6.15 p.m. local time. He hasn't been named by the KPK as a suspect in the case, which involves a project to develop an electronic identity card system, led by the Ministry of Home Affairs.
He denied any wrongdoing and insisted allegations by the former Democratic Party Treasurer Muhammad Nazaruddin, already convicted of corruption, that he had received illicit payments were false. He told reporters that as finance minister and in managing state finances, he had always complied with the law.
The accusations by Nazaruddin are "a big lie," Martowardojo said. "He is a convict and he's in jail. He is not credible."
Martowardojo, 60, has improved transparency and credibility of monetary policy in Indonesia, helping to bring inflation down to single digits and keeping it below the 5 percent upper limit of the bank's target for a year. He was finance minister from 2010 to 2013 under former president Susilo Bambang Yudhoyono before heading up the central bank.
A statement on the KPK's website said alleged corruption in the ID card system between 2011 and 2012 had caused losses to the state of 1.1 trillion rupiah ($84 million).
'Good Record'
Martowardojo's reforms -- including the adoption of a new benchmark rate as the central bank's main monetary policy tool this year -- has improved the performance of the bank, said Josua Pardede, an economist at PT Bank Permata in Jakarta.
"Inflation currently remains manageable and the rupiah is also stable," Pardede said, adding that the market knows the governor well. "He has a good track record in terms of his performance as finance minister and currently as the central bank governor. I think the credibility of BI is not affected by Agus' current issues."
The KPK has pursued graft charges against central bankers, government ministers and company executives in the past. Miranda Goeltom, a former senior deputy governor at the central bank, was jailed in 2012 for bribery involving her election to the post. Former BI deputy governor, Budi Mulya, was sentenced to 10 years in jail for corruption in 2014 relating to the government's bailout six years previously of Bank Century, at the time the 13th largest bank in Indonesia.
While graft remains a problem in Indonesia, the government has made some inroads into tackling it. The country was ranked 88th on Transparency International's 2015 corruption perceptions index, an improvement on its 107th place in the previous report.
Before it's here, it's on the Bloomberg Terminal.
LEARN MORE