Here's One Clear Sign U.K. Inflation Is Poised to Jump
Input prices surged in October.
By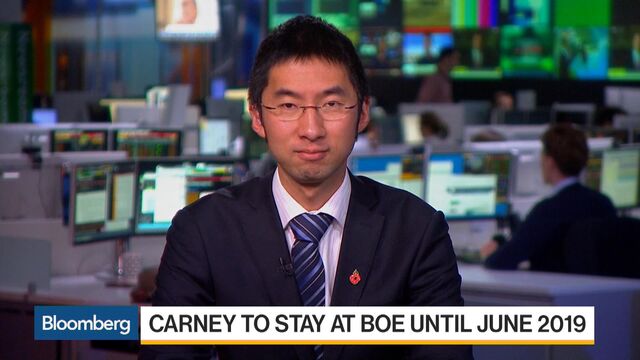 Get ready.

On Tuesday, IHS Markit's Purchasing Managers Index showed input prices rose to their highest level in five years, nearing a record high since the survey first began tracking business costs back in 1992. Hard U.K. inflation data has yet to show a big uptick in prices but a surge in input costs for U.K. manufacturers foreshadows the looming threat of inflation for U.K. businesses — as well as the Bank of England's challenge in juicing the economy in the coming quarters while obeying its inflation target.
"The data highlight the impact of the large depreciation of sterling," Daniel Vernazza, economist at UniCredit SpA wrote in a note to clients. "On the one hand, the depreciation of sterling supports U.K. exports as it makes them appear cheaper once expressed in foreign currency. On the other hand, the depreciation of sterling is significantly increasing the cost of (imported) inputs into the production process."

The Purchasing Managers Index, one measure of output for the British manufacturing sector, eased to 54.3 in October. While that's down from 55.5 in September, a reading above 50 indicates expansion and the figure remains above its pre-referendum level and the historic average, suggesting export volumes have received a boost from the fall in the sterling.
But the pound's fall threatens inflation-adjusted output and business margins. 
Capital Economics reckons CPI inflation is poised to pick up "sharply" over the next few quarters, now that the pound, which has fallen 18 percent since the Brexit vote in June, is beginning to be felt by U.K. businesses.
In October, a survey by the Confederation of British Industry registered an increase in optimism among U.K. exporters, underscoring the relative resilience of the economy after the Brexit vote. However, 47 percent of the 231 firms surveyed said the pound's fall was having a negative impact on their business, compared with 32 percent who said it was positive, and 19 percent who were neutral on the issue.
Analysts expect the Bank of England to raise its inflation forecasts in its new quarterly projections to be released alongside its interest-rate decision on Thursday, testing the central bank's appetite to overshoot its 2 percent target next year, after years of undershooting this level.  
"We expect the [Monetary Policy Committee] majority to 'look through' inflation rising above target, and be ready to cut rates to support growth, on the assumption that the inflation overshoot is a temporary effect reflecting a one-off move in the pound,"analysts at Morgan Stanley, led by Carmen Nuzzo, wrote in a report on Friday.
Before it's here, it's on the Bloomberg Terminal.
LEARN MORE