Herbalife CEO Will Hand Reins to Operating Chief Next Year
By
Nutrition company also boosts annual earnings forecast

Announcement comes 3 1/2 months after settlement with FTC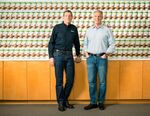 Herbalife Ltd. will elevate Chief Operating Officer Rich Goudis to the top job on June 1, entrusting a nutrition-industry veteran and former altar boy with the company's recovery from a sweeping federal investigation.
Goudis, 55, will replace Michael Johnson, who has been chief executive officer since 2003, the Los Angeles-based company said in a statement Tuesday. Johnson, 62, will remain head of the board, but take the title of executive chairman.
The move comes 3 1/2 months after Herbalife reached a $200 million accord with the Federal Trade Commission, which began investigating the company after prodding by billionaire hedge fund manager Bill Ackman. Herbalife agreed to make widespread changes to settle claims that it deceived consumers with get-rich-quick promises, and Goudis has taken a central role reshaping its operations.
"We have shown our ability to continuously innovate by bringing new products to market and improving the customer and distributor experience," Goudis said in the statement. "I look forward to building upon this strong foundation."
Higher Forecast
Herbalife, which sells weight-loss shakes and supplements through an army of independent distributors, also boosted its annual earnings forecast. It now expects profit of $4.65 to $4.85 a share, excluding some items, up from a previous range of $4.50 to $4.80.
Third-quarter earnings amounted to $1.21 a share, topping the $1.09 estimated by analysts. While sales rose 3 percent to $1.12 billion, that was a bit shy of the $1.14 billion projection.
Herbalife shares declined 1.7 percent to $58.14 in late trading following the announcements. They had been up 10 percent this year through Tuesday's close.
Another part of Goudis's new job as CEO: warding off attacks from Ackman. The investor has waged a nearly four-year war against Herbalife since announcing a $1 billion bet against the company in December 2012.
Ackman Battle
Ackman has called Herbalife a pyramid scheme and pushed the government to shut it down. Those criticisms often put Johnson on the defensive. At one point, Ackman said Johnson was a "predator" running a "criminal enterprise."
At the outset of Ackman's pyramid-scheme allegations, Johnson was an outspoken defender of the company, saying Ackman "only cares about being the richest man in the world, and to me that's a very sad, sad pursuit." Over the past year or so, Johnson has mostly stayed out of the public eye -- with the exception of speaking on earnings calls with analysts. And even then, he's let Chief Financial Officer John DeSimone do most of the talking.
Carl Icahn, another billionaire investor, has become Herbalife's highest-profile backer. He is the company's biggest shareholder and said Tuesday that he supported Goudis's move to the CEO job.
Goudis, who will have to work to repair Herbalife's reputation, has touted his own family values. In a speech at Pepperdine University in 2011, he talked about his Catholic upbringing and his past as an altar boy.
"We, at Herbalife, have some core values," Goudis said in the speech. "Generally, they are basically family values, the things that you would want to do with your family. So, that is my foundation."
Before it's here, it's on the Bloomberg Terminal.
LEARN MORE