FBI's Comey Still Has Confidence of Attorney General Lynch, Official Says
By
Lynch, Comey spoke together after a meeting on Monday

Still not clear if more details of probe will come this week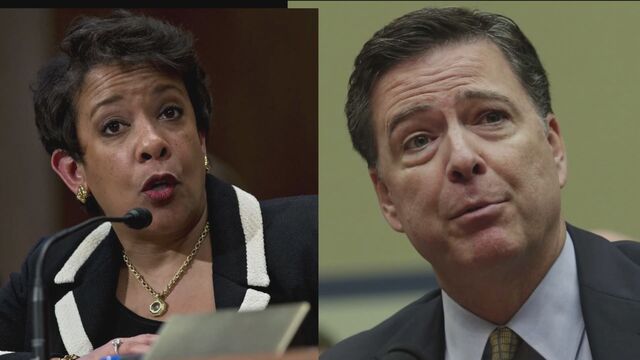 U.S. Attorney General Loretta Lynch continues to have confidence in FBI Director James Comey despite his controversial decision to renew a probe related to Hillary Clinton's use of a private e-mail system, an official said.
Comey and Lynch spoke briefly after a meeting in Washington on Monday, according to the official, who requested anonymity to discuss a private conversation. The FBI chief and the attorney general still have a good working relationship, the official said, even though they disagreed on his decision to disclose the probe so close to the Nov. 8 presidential election.
In their conversation, Lynch stressed the seriousness of resolving the matter, the official said. However, it's not clear if there will be an update on the probe that could be provided to lawmakers and the public this week, according to the official, who added that no more announcements are currently planned.
After their meeting, the Justice Department sent a three-paragraph letter to lawmakers telling them only that it will "work closely" and "as expeditiously as possible" with the FBI on the new probe, without providing more specifics on the investigation. Top Senate Democrats responded in a statement late Monday that the letter was "disappointing and inadequate."
Oct. 28 Letter
A political firestorm erupted after Comey told congressional leaders in an Oct. 28 letter that the bureau discovered new e-mails that might be relevant to the agency's previously completed investigation into Clinton's e-mail use. That revelation placed the bureau and Lynch under pressure to provide additional details.
Comey's move has tested his relationship with Lynch. Comey informed lawmakers of the FBI's revived inquiry over the objections of Lynch and other top department officials, who strongly urged him to abide by department policy to not do anything significant in a major investigation so close to an election, if doing so could affect the results.
Comey said in a memo to the FBI staff that he felt compelled to inform lawmakers of the new development because he had earlier announced that the Clinton investigation was closed.
'Cast A Shadow'
Both of the nation's top law enforcement officers have been bruised by the e-mail issue. Lynch was criticized in June after she met privately with Bill Clinton aboard her plane in Phoenix, days before she was due to receive Comey's recommendation in the original e-mail investigation. Lynch described the meeting as a "social conversation" but acknowledged it "cast a shadow" over her role.
Comey was denounced by Republicans for his finding in July that no prosecutions were warranted even after he described the handling of classified e-mails by Clinton and her aides as "extremely careless." Lynch accepted Comey's findings. Then Democrats have slammed Comey since Friday, when he declared that the inquiry was being revived without providing details or explaining why.
Comey said in a memo to the FBI staff that he had to notify lawmakers because he had previously told them the investigation was complete. Waiting until after the election could have brought accusations that the bureau tried to hide a significant investigative finding, said a U.S. law enforcement official who asked not to be identified. And because lawmakers are away from Washington until after the election there was no chance to provide a classified in-person briefing, the official said.
Abedin's E-Mails
The latest crisis began during a separate probe, when investigators found a laptop containing e-mails from Clinton aide Huma Abedin. On Sunday they obtained a warrant to examine whether those messages are work-related and whether they contain classified information. It's possible the messages duplicate those already turned over by Clinton and her team or unearthed by the FBI during its earlier investigation.
The new e-mails were found weeks ago, raising questions about why Comey informed lawmakers only last week. It took time. however, for investigators to realize what they had and to determine what they needed to do next, the law enforcement official said. Comey said in his memo that was briefed on the findings on Oct. 27.
The revived e-mail inquiry has given fresh ammunition to Clinton's Republican presidential rival, Donald Trump. He said it was "bigger than Watergate," while the Democratic nominee said she's "confident" the investigation won't change the bureau's decision in July to end its original probe.
'Unambiguous Answers'

Top Senate Democrats pressed this week for more answers.
"Voters are going to the polls at this very moment, and it is incumbent on the FBI Director and Attorney General to provide Congress and the American people with clear, unambiguous answers about what the FBI knows and doesn't know about the emails in question, including how many are duplicate emails that have already been reviewed by the FBI," according to a joint statement from Senators Dianne Feinstein of California and Patrick Leahy of Vermont, the top Democrats on the Senate Intelligence Committee and Senate Judiciary Committee, respectively.
Separately, Harry Reid, the Senate's top Democrat, delivered an unusual rebuke to the FBI chief in a letter Sunday that said Comey may have broken a law against public officials using their position to influence electoral politics by revealing the review so close to the election.
Some Democrats also have accused Comey of having a "double standard" in disclosing the Clinton probe while not discussing other current or previous investigations that they say involve Republican nominee Donald Trump's campaign.
The FBI is now using a computer program to winnow down the number of Abedin e-mails that may be pertinent to the Clinton investigation and to determine if they are duplicates of what investigators have already seen. That process could conclude this week.
Still, it's not yet possible to assess whether a complete review can be finished before Election Day. If investigators find new e-mails with potentially significant or classified material, it will take more time to analyze them, possibly including sending them to other agencies for vetting, said the law enforcement official, who asked for anonymity to discuss a pending investigation.